Art workshop "IN THE COLORS OF LIFE"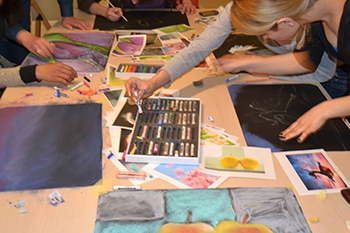 http://www.pokazivac.com/likovna-radionica-u-boji-zivota.html 
On March 27 and 28 2015, an art workshop "IN THE COLORS OF LIFE" was held in Atina's premises. Over a period of 6 hours of effective work, seven outstanding art works were created, painted by beneficiaries of NGO ATINA. Art workshop is of humanitarian character, and all the paintings created within it will be sold at the upcoming auction, and the funds raised in this way will be used for programs of reintegration of victims of human trafficking. Art works will be exhibited on May 16 2015, within XII Night of Museums in Belgrade.
More information about the auction and exhibition are coming soon.
The workshop was held within the program "Inclusion of marginalized groups into the trends of contemporary cultural creativity", which is conducted by the Association of Balkan artists and NGO Atina.
Workshop facilitators were Divna Lulić Jovčić, painter, and Dejan Hornik, youth worker.