HOW TO HELP VICTIMS OF HUMAN TRAFFICKING?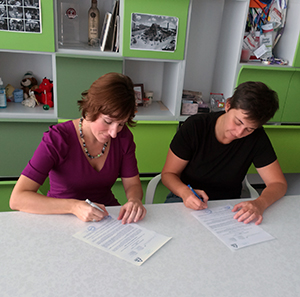 Joint campaign of NGO Atina and Limundo Ltd. for economic empowerment of victims of human trafficking 
Atina – citizens' association for combat against trafficking in human beings and all forms of violence against women and the company Limundo Grad, jointly initiated campaign "I shape my own life", in order to inform the public about the human trafficking issue. Serbian citizens are invited to engage themselves by purchasing jewellery made by the beneficiaries of NGO Atina, and thus contribute to economic empowerment and independence of the victims of human trafficking. 
Jewellery can be seen and purchased here:http://atina.org.rs/prodaja_nakita.html 
Thematic trainings for the beneficiaries of Atina's programme will be organized within the campaign, as well as workshops in unique jewellery making. Their pieces can be bought through Kupindo.com website and Kupindo mobile application for iOS and Android. Each of these pieces of jewellery and clothing bears the imprint of the person who made it, a victim recovering from the consequences of human trafficking. 
One of the biggest challenges in helping victims, after they are safely relocated from the situation of trafficking, is their independence and reintegration into society. Most of them suffered cruel physical and emotional abuse, and were forced into exhausting labour, without any compensation, in extremely difficult and risky circumstances. In order to recover and start a new life, beneficiaries of Atina's support programme receive medical and legal assistance, psychosocial support and safe accommodation. However, after their psychological empowerment is completed, they are inevitably left to themselves without any resources or support of family and friends. Then comes the hardest part of the recovery of victims: enabling them to provide economic independence through their own work. 
For that reason, Atina and Limundo Grad jointly developed a programme that provides victims with opportunity to make something useful with their own hands, and citizens with a chance to make a good deed in purchasing these unique products. By participating in the campaign "I shape my own life", and purchasing handmade jewellery, citizens will enable the victims of human trafficking to get a chance that was forcibly taken away from them - a chance to start a life worth living. 
We invite the media, companies and individuals to get involved and support the most vulnerable among us. 
NGO Atina, October 24, 2014. in Belgrade