'This is Misogyny': The Growing Abuse Facing Women in Montenegrin Politics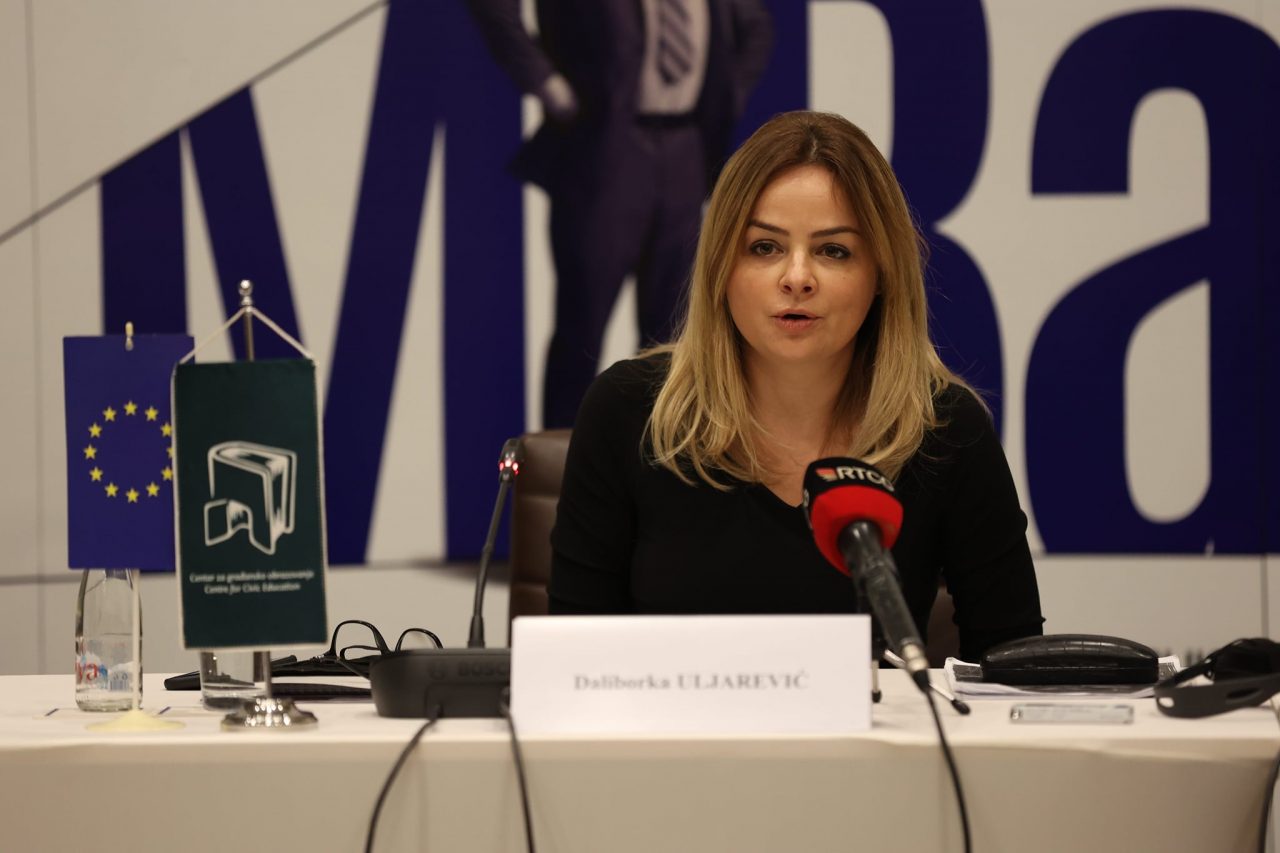 Daliborka Uljarevic. Photo: CGO.
On both sides of Montenegro's ideological divide, women politicians face sexism, abuse, and discrimination on a daily basis. And experts say it's only getting worse.
Vesna Bratic and Draginja Vuksanovic-Stankovic sit on opposing sides of a deep ideological divide in Montenegro. Bratic is a cabinet minister in a shaky governing alliance that came to power in late 2020 with the end of three decades of uninterrupted rule by the Democratic Party of Socialists, DPS, only to collapse under the weight of infighting on February 4.
Vuksanovic-Stankovic is an opposition MP from the Social Democratic Party, SDP, and a critic of that government.
One is identified with a political camp that opposed Montenegro's split from Serbia in 2006; the other is a fierce defender of Montenegro's right to strike out alone.
Politically, they are polls apart. But as women in politics, they have one thing in common: both are victims of online and offline abuse and discrimination on a daily basis because of their gender, a phenomenon that experts in Montenegro say is only getting worse.
Seven out of 10 women politicians in Montenegro have experienced violence during their political work, according to a UNDP-supported study published last year by the Women's Political Network. Nine out of 10 have experienced gender-based discrimination.
And the effects go far beyond the individual.
"This has multiple negative effects, including demotivating many smart, hard-working women from getting involved in public and political life in general," said Daliborka Uljarevic, director of the Podgorica-based Centre for Civic Education, CCE, a leading Montenegrin NGO.
By extension, Uljarevic told BIRN, this limits the ability of women "to participate in a substantial way in decision-making and policy-making processes, including those that reflect on the quality of life of women."
Bratic declined to be interview for this story, but Vuksanovic-Stankovic told BIRN: "I don't think there has ever been as much violence towards women in politics as there is today."
Abuse online, sexism in parliament
A former Yugoslav republic of some 620,000 people, until late 2020 Montenegro was governed for three decades by the DPS, which led the country to independence in a close-run referendum in 2006.
The party lost power to a disparate alliance of three political blocs, dominated by politicians who had opposed the breakup of Montenegro's almost century-old state union with Serbia. The power change reawakened tensions in a country where no one ethnic group forms a majority.
The ruling majority in parliament voted into office a cabinet largely made up of technocrats, Bratic among them.
But the 44-year-old minister for education, science, culture and sports – an ethnic Serb from Bosnia and English professor by trade – was already associated with mass protests led by the Serbian Orthodox Church in Montenegro in 2019 over a controversial freedom of religion law, protests that were widely credited with tipping the political scales against the DPS in elections the following year.
After taking office, Bratic was subjected to a campaign of online abuse involving vulgar caricatures and photomontages. Her case is being investigated by prosecutors. In February last year, Bratic was assigned 24-hour police protection after a man was arrested two months earlier for endangering her safety when he obstructed Bratic's official car and threatened her.
Vuksanovic-Stankovic, meanwhile, has made appearances at so-called 'patriotic rallies' organised by those who say the new government and its perceived pro-Serbian politics represent a threat to Montenegrin statehood.
She has experienced sexism, discrimination and abuse inside as well as outside parliament; online, 43-year-old Vuksanovic-Stankovic has been the target of what she described as "very ugly, very vulgar" photomontages.
"When I make a statement, which is my political position and I do not insult anyone, I am subjected to some kind of threat in the comments on social networks, most often sexual insults, comments on my marital status, my husband, who is considerably older than me, and so on," she told BIRN.
In parliament, Vuksanovic-Stankovic has been criticised by male MPs for being "agitated" and frustrated," terms that men frequently apply to women. When she received her third dose of COVID-19 vaccine, political foes tweeted comments loaded with sexual innuendo.
In December, writing on Facebook, the acting manager of the municipality of Herceg Novi, Dusan Vukic, said that Vuksanovic-Stankovic was "proof that the difference between spouses should not be greater than 10 years. Increasing that difference also increases the frustration of the younger spouse. The worst option is when the citizens of one country suffer from that frustration."
Vukic later apologised for what he said was a "clumsy attempt" at humour.
Call for tougher penalties
In February, police began providing security at her home. Vuksanovic-Stankovic told media she had been informed by police chief Zoran Brdjanin that the police had picked up indications of a possible attack on her.
Commenting on the abuse suffered by Bratic, Vuksanovic-Stankovic said no woman should have to suffer political violence.
"So we can disagree and I should express a political position: 'Ms Bratic, I do not agree with this, this and that, because of this, this and that'. But that does not mean that anyone on this side should insult her as a woman."
"I believe that all forms of political violence against women should be banned and sanctioned."
In Montenegro's case, the punishment should be stronger, she said, and lamented that libel had been decriminalised.
"Although these are European standards, I think that we are not mature enough as a society and that defamation should have been left in the Criminal Code of Montenegro so if someone pays a heavy fine or goes to prison tomorrow because he slanders someone, belittles and psychologically abuses them, yes, he should be sitting in Spuz [prison] where he belongs, so he will think hard before sending some kind of sexist message."
The Basic Prosecutor's Office did not respond to BIRN questions concerning the status of the case involving Bratic or whether any case had been opened regarding abuse or threats directed at Vuksanovic-Stankovic.
Such abuse 'increasingly present'
Experts say the roots of such abuse can be found, in part, in the largely conservative, patriarchal nature of Montenegrin society and the lack of gender equality.
Uljarevic, who has faced similar abuse, also cited the prominent role played by the church and what she called "pop religiosity" in Montenegro that seeks to confine women to certain gender roles.
"We had dirty campaigns against civil society activists under previous governments and the radicalisation and extremism of society creates a climate in which it is 'normal' to insult a woman when you don't like what she stands for in public," Uljarevic told BIRN.
A Twitter user making misogynist comments in Draginja Vuksanovic-Stankovic's regard. Screenshot: Twitter.com
Then there is the emergence of social media, a major political battleground in Montenegro.
"Social networks have contributed in particular to the low level of spoken public culture in which women are exposed to brutal insults and attempts at humiliation," said Uljarevic.
"Such examples create a climate of intimidation, fear and insecurity and tend to legitimise violence against women, which is unacceptable in a democratic society."
"These are also forms of violence against women that are happening before our eyes and with the goal of collectively discouraging women from getting involved in the sphere of political decision-making."
"The consequence is that we have to fight again and again for certain basic human rights, especially for the rights of women."
Sociologist Andrija Djukanovic said women's engagement in politics was always viewed negatively in Montenegro, where, he said, many believe that "politics is for 'people', not for women." But it is getting worse, he told BIRN.
"Let's just look at what Draginja Vuksanovic-Stankovic or Daliborka Uljarevic have been exposed to because of their political views," Djukanovic said.
"Immediately, the tried and tested arsenal of sexist statements is used as an argument, which is in line with public opinion and the already established attitudes of the majority of the population."
"This is misogyny," he said. "We have to say that this kind of behaviour is more common today, at least in public speech, than ten years ago, which does not mean that there were no misogynistic attitudes before. However, today, this speech is increasingly present."
On January 11, Jovan Markus, a 73-year-old historian, politician and member of Montenegro's National Commission for UNESCO, took to Twitter with a vulgar remark in reference to a picture of Vuksanovic-Stankovic.
Responding to criticism, Markus told media that, as an MP and not a protected "polar bear," it was only right that Vuksanovic-Stankovic should be subject "to public criticism as well as public praise." His tweet contained neither, but was a vulgar remark of a sexual nature.
Vuksanovic-Stankovic, a jurist and professor of law, said that she pitied those behind such abuse whom she said suffered from "complexes" rooted in their upbringing.
But, she told BIRN, "According to all judgments of the European Court, public figures should suffer more. I am not obliged, but I need to suffer more than other citizens and I am ready for that."
Asked why she did not press charges over such abuse, Vuksanovic-Stankovic replied: "I think that I should dedicate my time to my family, to my students, to my political activities, and not to spend it in court with psychopaths."
Text in original could be found at the link: https://balkaninsight.com/2022/03/28/this-is-misogyny-the-growing-abuse-...
The article is being made with support from the Balkan Trust for Democracy, a project of the German Marshall Fund of the United States and the Royal Norwegian Embassy in Belgrade.