Bagel Bejgl - a vision of the future recognized by the Council of Europe Development Bank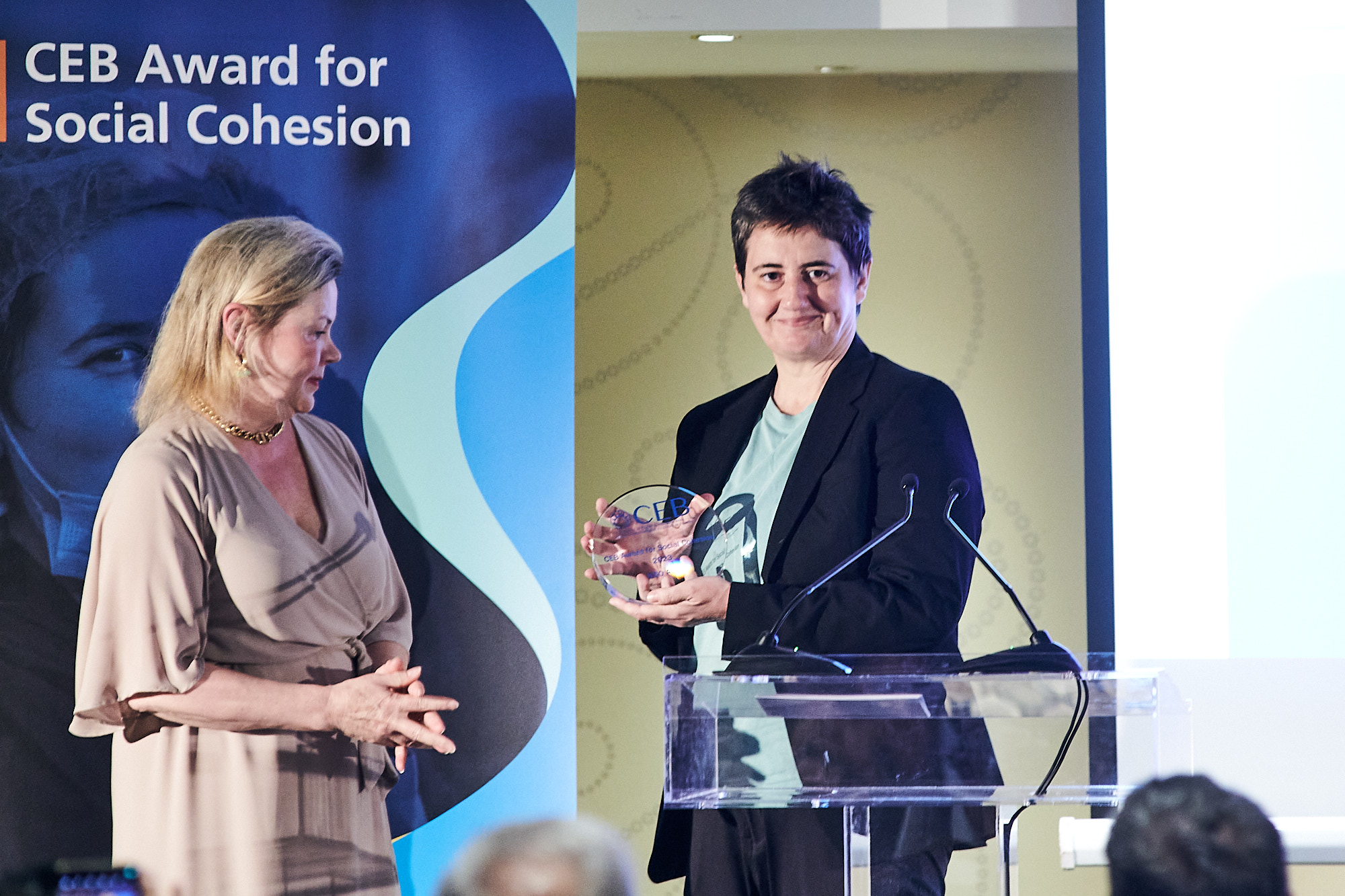 Fotografija: CEB/Fotis Plegas G.
Bagel Bejgl - a vision of the future recognized by the Council of Europe Development Bank
We are very proud to inform you that Atina, and our women's entrepreneurial initiative Bagel Bejgl, whose profits are used to finance support program for victims of human trafficking, is the winner of the CEB award for 2023, an award from the Council of Europe Development Bank.
The ceremony was held on June 8 in Athens. We are sharing the acceptance speech of our director, Marijana Savić, in its entirety.
How symbolic it is that NGO Atina (NGO Athens) receives this recognition in Atina (Athens), and it comes at a time when NGO Atina is celebrating 20 years of existence.
We named Atina after the goddess of wisdom and strength to celebrate women's agency, resilience, and boldness to survive and fight for their existence, solidarity, and equality.
Dear friends and colleagues, it is a great honor for Atina and our women's social enterprise Bagel Bejgl to be recognized as someone who makes changes in the lives of the women and girls we serve, recognized by our work in the field of innovation in social change, advocacy for women's and girl's economic rights and fight for a just world.
Women, just because they are women, especially in patriarchal societies, have fewer possibilities for education, employment, and self-realization, and they suffer violence and sexual exploitation. Most of the women identified as victims had experienced violence in their childhood. And, that is a constant - that unfortunately doesn't change. Wars are fought and ended, but violence against women and girls never ends.
The work of the organization Atina is guided by the needs of more than thousands of survivors of human trafficking, exploitation, and gender-based violence we have supported since the beginning - and is created together with them.
Recovery and reintegration is a long-term process. We serve women and girls who have never had reliable social connections. The majority of them don't have supportive families or friends. They've experienced trauma, and it's difficult for them to trust. 
We promote survival and resilience. 
It's a package, not a single intervention. It's integrated. Donor funding is typically short-term, but our commitment to the women we serve does not end.
Atina couldn't wait for perfect donors. In 2014, we took the initiative and developed a revenue stream by founding the Bagel Bejgl Company.  
Bagel Bejgl is a means of providing economic sustainability for Atina. We offer our fellow citizens the unique flavor of bagels, but the enterprise also benefits our beneficiaries economically. Through a culinary employment training program, we prepare survivors to fill the jobs that run the business.
Many never had the education to acquire skills or the work experience to have references for future employment. Now, they do.
This award is an excellent opportunity to upgrade our catering offer and increase the number of women we can engage in production, but also to realize our big vision, which is to integrate all activities in a women's collective that will include: a kitchen lab, job training, counselors, psychologists, lawyers, and resources like computers, phones, and safe space.
This is something that Belgrade needs. And Bagels are making it happen. 
Thank you for recognizing this approach!
This award means the world to us because of that!!
And for the final remarks, I received this award for Atina on behalf of incredible women who couldn't be here tonight with us. Without Jelena, it would be impossible for Atina and Bagel to grow and reach all those women and girls in need, keep us focused, and bring out the best.
Without our perfect chief, Kristina, who is here with me tonight, a clinical psychologist by profession and chef by love, an ideal combination,  we would not be where we are now. Behind Bagel Bejgl are our dear colleagues responsible for the quality and perfect taste of bagels – Seka, Dajana, Sanja, and many more who were part of the Bagel Bejgl team. I want to mention all the colleagues in Atina without whom we wouldn't be here today.
And I am using this opportunity to thank all our wonderful clients, especially those from the private sector, international organizations, and NGOs, as well as all citizens bagel lovers, for eating their favorite bagels and our mini bagels catering, supporting women and girls in need, spreading the word on innovative ways to reach justice, and making us happy by enjoying our food made with love.
Knowing that you all exist and fight for justice and dignity makes me more determined that our fight is essential and optimistic for the future globally.
Dear colleagues from the Council of Europe Bank - Thank you once again for this recognition, and continue to serve your mission of helping and supporting the most innovative approaches that bring solidarity and social change for the better throughout Europe!
Photographs from the event can be found here: http://www.atina.org.rs/en/bagel-bejgl-vision-future-recognized-council-...