Human Rights Day: Serbian citizens live in fear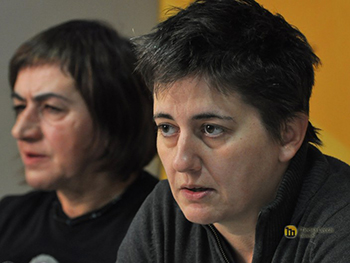 Today, activists of two non-governmental organisations spread placards in the centre of Belgrade, on the occasion of International Human Rights Day, that indicate the fears which, they claim, citizens face every day.
Organisations "Reconstruction Women's Fund" and "Women in Black", within the stage action called "Enough terror", carried out a performance in which they decorated a several meters high ladder with placards, which, as they said, represents a "Christmas tree decorated with fears". Placards, among other things, said: "I am scared because I am Roma", "I fear I will lose my job", "I am scared of the one who sold me"...
Staša Zajović, from NGO "Women in Black", said that in Serbia nothing has been done in the field of human rights.
"We can not talk about progress in the field of human rights. What has been done is at the declarative level, and we want this campaign to highlight the discrepancy between the actual situation and promises," she said. Activist Zoe Gudović stated that the aim of the campaign is to point out that "citizens live in constant fear." 
"This is a tree that is supposed to be a Christmas tree, and to represent a form of gift and fulfilment of wishes, and we decorated it with real fears we live with," she said. "We, as the civil sector, wanted to express our attitude that we will not agree to fear, that fear can not manipulate us, and that we are distinctly talking about all the problems", she added.
Source: N1 info
For NGO Atina, text translated by Marija Pantelić
The original text can be found here:
http://rs.n1info.com/a18788/Vesti/Dan-ljudskih-prava-Gradjani-Srbije-zive-u-strahu.html