Ideas for a better tomorrow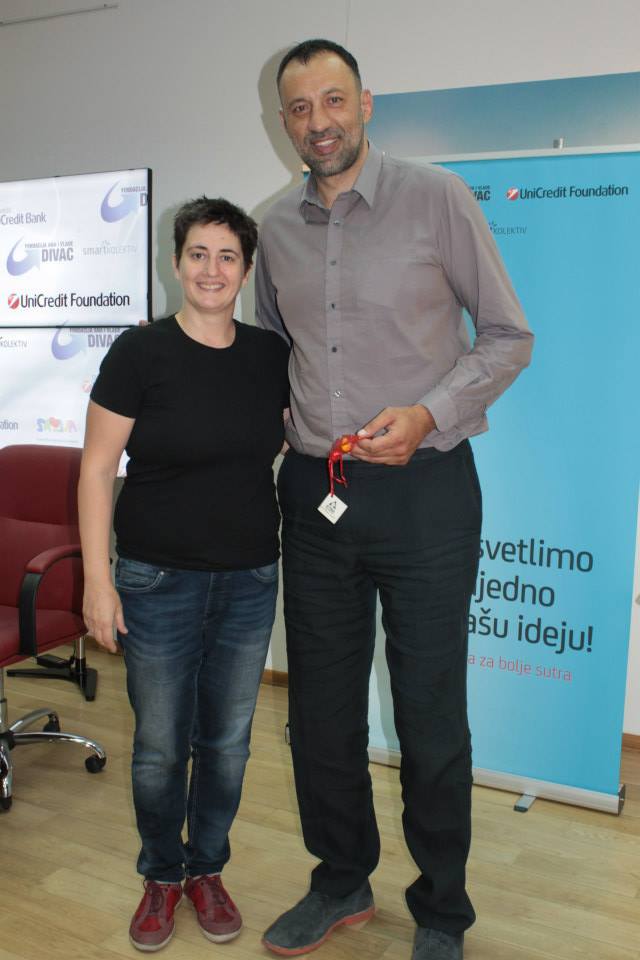 In the photo: Famous Serbian basketball player Vlade Divac
and director of NGO Atina Marijana Savic
At the competition "Ideas for a better tomorrow", NGO Atina was supported by Divac Foundation, UniCredit Foundation, UniCredit Bank, Smart kolektiv and National Tourism Organization of Serbia, for implementation of the project "I shape my own life - empowering victims of human trafficking through creating jewelry, souvenirs and corporate gifts". Thanks to this support, further economic empowerment is provided to the victims of human trafficking, who are beneficiaries of the program implemented by NGO Atina. Their extraordinary talent contributed to the development of a wider range of products, and their artistic expression created unique jewelry, handmade from clay and textiles that led to the idea of selling. Each item is made with special care and dedication, and adapted to the needs of the clients. This support for the beneficiaries of our programs is primarily a confirmation of talent, skill, creativity, as well as economic empowerment, which is significant in the process of returning to society.
Most of the beneficiaries of NGO Atina's programs were never enrolled in school, nor have they completed primary school. In addition to experienced trauma and consequences of the situation of violence, it makes them difficult-to-employ persons. The recovery program is not possible if these young women are not allowed to regain control over their lives, and to become financially independent and win their freedom.
Only through joint effort and work can we help them, each in our own way, through a donation, shopping, or giving ideas and sending positive messages, because a good word gets around. For this reason, we invite you to support the purchase of products which are of superior quality, innovative, imaginative, and above all made with lots of effort and love, and provide for the recovery of the most vulnerable in our society.
By purchasing our jewelry you are helping victims of human trafficking - girls and women - to gain self-esteem, hope and the ability to create once again. It is a small step for you, but a giant leap for them.
You can support the programs for social inclusion of the victims of human trafficking by making a donation via NGO Atina's account at UniCredit Bank 170-0030024571000-74
Like our Facebook page https://www.facebook.com/NGOAtina and find out more about the phenomenon of human trafficking, follow our activities directed toward the protection of victims of human trafficking. You can also support our programs by providing voluntary expert support. 
Because it concerns all of us!