Increased number of asylum seekers in Serbia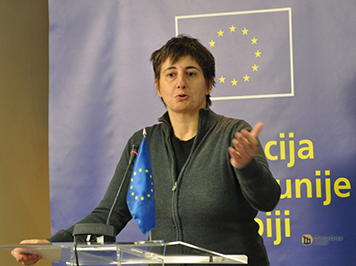 Since the beginning of the year, 10.851 person seeked asylum in Serbia, which is twice as much as in the previous year, said the director of NGO "Atina", Marijana Savić.
At the conference "Challenges of Migration - migrant population in local communities in Serbia", Marijana Savić specified that accommodation centres for asylum seekers are located in Subotica, Sremska Mitrovica, Šid, Bogovađa and Banja Koviljača, Beta reports.
As she indicated, only Banja Koviljača has sufficient accommodation capacity for reception of refugees.
Head of the government's Office for Cooperation with Civil Society, Jelena Pajović van Reenen, said that it is worrying how little funds from the budget are allocated to migrants. Van Reenen added that she hopes this issue will be recognized at the local authority level, and that financial support will be provided.
Editor of the research on migrations, Aleksandra Galonja, evaluated that the help system is insufficiently organized, and that migrants are least satisfied with the support they receive in health and education system.
Galonja stressed that it is necessary to assess the degree of vulnerability of these groups, especially minors and women, to violence, exploitation, and human trafficking.
"All who work with asylum seekers must be educated to recognize victims of human trafficking among this population", said National Coordinator for Combating Trafficking in Human Beings from the Ministry of the Interior, Mitar Đurašković.
Mediator from Syria, Rima Kilani, stressed that institutions do not respect the rules, officials do not speak English, and the paperwork is endless.
For NGO Atina, text translated by Marija Pantelić
The original text can be found here:
http://www.rts.rs/page/stories/sr/story/125/Društvo/1751321/Povećan+broj+azilanata+u+Srbiji+.html?tts=yes