People do not want to know under what conditions their clothes are made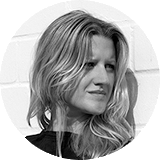 People do not want to know under what conditions their clothes are made
Fashion designer Bojana Drača recently visited Belgrade and held a workshop on sustainable and ethical fashion at the Belgrade Design Week. Bojana's work is based on the principles of sustainable fashion, and for this reason, at the masterclass in Belgrade, she tried to answer the questions on what is behind the phenomenon of sustainable fashion, as well as on the ethical issues related to fashion and how much we know about the origin of our clothes, whether we should start changing our habits because of other people, the planet, and also because of our health. Bojana's arrival in Serbia was supported by the company Manpower, a member of the Global Business Coalition against Human Trafficking. 
In the activities of fight against human trafficking, we are often faced with issues related to labour exploitation of children and adults in the fashion industry, clothing and footwear. 
Interest of, mostly young, people for the questions of ethical fashion is especially pronounced since the tragedy in Bangladesh last year when 1133 girls were killed in factories in which they sewed for the world famous brands. Bojana Drača does not believe that people are sufficiently familiar with the term "sustainable fashion". 
"I think people know very little about that topic, not just in Serbia but everywhere. The market is small, but I'm sure there's a group of people who would be buying sustainable fashion here as well. What is important in the whole story is to sell design and image, not just sustainability, "says Bojana in an interview with NGO Atina. 
Do you think people are even aware of the fact that in many cases their clothes are made by children or very cheap labour force? 
I think that people do not want to be bothered much and go with "out of sight, out of mind" logic. 
Do you plan on cooperating with any of the organizations in Belgrade dealing with child protection and human rights? 
For the time being no, but there is a long-term plan for some sort of social project in the territory of former Yugoslavia. 
When we say "fashion", the first thing that comes to mind of most people is glamour and money. How do you raise awareness of consumers, and fashion lovers, when it comes to the origin of what they are wearing or wish to wear? 
People are mostly ill-informed, and do not think about the whole manufacturing process that is behind a single product. I'm trying to put the emphasis on all the time and effort required for a design to get its final appearance and function, and thus explain to people the value it deserves. 
You have developed a special "zero-waste" technology, and are recognized in the world for it. In what way did that affect your work? 
"Zero-waste" is an element that contributes to the sustainability of my brand Farrah Floyd, but I think that the more revolutionary part in that story is the fact that I managed to completely change the idea of the traditional way of tailoring with it. In this way, I manage to create completely new shapes and forms, and thus very innovative designs, without any scraps (the material is cut in a way that every single piece is used), thus saving material and all that is needed for it to be made. 
Do you think that the knowledge of consumers and buyers about the origin of the clothes they are wearing, and on which they are spending huge amounts of money, can create a different attitude towards clothes and a development of the fashion industry in general? 
I believe it can, to some extent, because if consumers refuse to buy something without a certificate, for example, manufacturers will be forced to obtain it. However, I think that the fashion industry is too powerful, and it will take a lot more than consumers' demands for something to be changed. 
For NGO Atina Magda Janjic