POVERTY FREE WORLD: Social entrepreneurship against poverty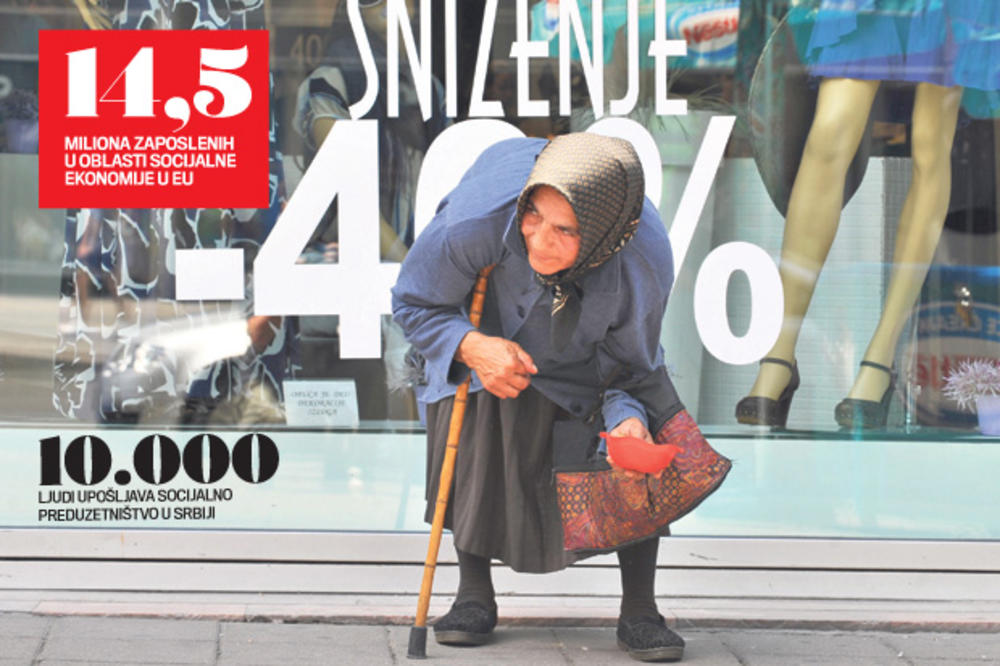 POVERTY FREE WORLD: Social entrepreneurship against poverty
SUSTAINABLE DEVELOPMENT August 7, 2018 07:25h Borba
One of the ways to suppress poverty is founding social enterprises that use their profit to support and employ vulnerable social groups.
Eradication of poverty in all all forms is still one of the the biggest challenges humanity has been facing. Even though the number of people living in extreme povery is reduced for 50% - from 1,9 billion in 1990 to 836 million in 2015 – the number of people still struggling to meet basic human needs is still enormous, show data obtained from United Nations Development Programme (UNDP).
Fast economy development  in countries such as China and India has pulled many people out of poverty, but this progress is unequable. The number of women living in poverty is disproportionately higher than men due to unfair employment possibilities, education, and property possession.
One quarter of the poverty-stricken
In 2016, a little less than 10 percent of world labor population lived with their families with less than $1,90USD per person a day, while in 2000 it was 28 percent. In the least developed countries, almost 38 percent of employees in 2016 lived below poverty edge.
As for Serbia, according to the latest data of the Republic Statistics Fund from 2017, poverty rate was 25,5 percent. This means that a quarter of our citizens is poor.
Having recognized this issue, United Nations (UN) has included poverty in its objectives (SDG) 1 Agenda for sustainable development 2030, which is binding that by the end of 2030 poverty will be eradicated everywhere and for all.  
One of the ways to suppress poverty, not only across the globe but in Serbia, is founding social enterprises. Social entrepreneurship, as a concept, has been developing over the last forty years, and in developed countries it accounts for up to 10 percent of GDP, noting that at the territory of the EU in this area around 15 million people is employed.
Social entrepreneurship is a business that is based on idea that through the profit made in sale or service it fulfills a clear social mission.  
This means that the earnings are not intended for enhancing one's possessions, but for investing in employing individuals who struggle with landing a job, social and medical services, education, environment protection, or cultural activities in a community. The idea is that users of social enterprises are divided into three categories – persons who struggle with landing a job (persons with disabilities), the vulnerable (the elderly, minorities, victims of violence and human trafficking, etc.) and the work-eligible social welfare recipients.
TRY OUT THE LATEST SOCIAL NETWORK! SEND A STORY TO KURIR JOURNALISTS, COMMENT WITHOUT CENSURE! CLICK ON THE LINK AND JOIN!  
Bagel Бејгл
PROFIT MADE FOR SUPPORTING HUMAN TRAFFICKING VICTIMS
A good example of social entrepreneurship is Bagle Bagle pastry shop, founded by NGO Atina, which has been running programmes of protection and social integration of the human trafficking victims, as well as the victims of other forms of exploitation.
This bakery offers sandwiches and cookes, and the profit made is invested in support programmes. Women who were human trafficking victims, or some other sort of violence, take program of training which prepares them for future work and life.
Economy potential
Cradle of social entrepreneurship is Italy, with the highest number of such companies. First social enterprises were founded in 1991 most of which were "collective farming communities".
If we take into consideration that social enterprise turnover in developed countries reaches millions of euros, it is clear that this is where lies a significant economic potential for a country's economy development.
Foundation Democracy Center said for daily Kurir that public in Serbia is still neither sufficiently familiarized with the model of social entrepreneurship nor with the benefits these companies can yield.
- Social entrepreneurship in Serbia accounts for only 0,2% in GDP and employs about 10,000 people. Social enterprises mostly operate in the area of education and training, tourism and hospitality, but they are on the rise in agriculture as well.  je sve više i u poljoprivredi. However, even though social entrepreneurship in Serbia is not that developed, there are numerous examples of good practice – claims Democracy Center.
Examples of good practice
EUROBANK SUPPORTS SOCIAL ENTREPRENEURSHIP
Eurobank keeps up with social entrepreneurship development trends and supports various initiatives aiming at promoting social entrepreneurship. At regional forum of social innovations  held in Belgrade good practice examples were presented from the the companies that continuously support social enterprises by purchasing products and using services through engagement in the supply chain, offering support through financial donations, product and service donation, volunteer engagement, etc.
Eurobanka financially supported the organization of the First Social Entrepreneurship Fair, donated office furniture intended for the editors of LICEULICE (eng.FACETOFACE) magazine, where it posts articles, enables periodical sale of LICEULICE magazine in bank's premises. Also, in an effort to promote social enterpirses' products and serveces, the Bank gave away BIOIDEA eco-friendly hand-made soaps and used services of copy office "Kosmos", which employs persons with disabilities.  
Legal framework
Legal and methodological framework for social economy in Serbia are not developed. In March 2018, The Ministry of Labor, Employment, Veteran and Social Policy announced that the Law on Social Entrepreneurship will be passed to the parliament by the end of 2018.
- Social enterprises operate without any benefits and financial assistance from the Government, tax breaks, subventions, as well as without any existing Law on Social Entrepreneurship. Aside from the Law on Social Entrepreneurship, it was necessary to harmonize some Tax Laws, provide policies that stimulate the growth of this Sector and measures that can help social enterpreneours start or develop their business. Social enterprises in Europe proved beneficial for resolving a wide range of social issues, thus it is necessary that the country provides support and secure adequate business – claims Democracy Center and adds that there are about 1,200 enterprises in Serbia that operate as social enterprises, however, if we disregard agricultural collective farming community, it is estimated that there are over 400 healthy and sustainable social enterprises that do business in our country.
Out of that number, they add, around 3/4 constitute citizens' associations and foundations, while the remaining legal forms include companies for professional rehabilitation and work integration of persons with disability, limited liability companies and entrepreneurs, as well as collective farming communities.
Aleksandar Stevanovic, an economist, says for daily Kurir that social entrepreneurship is a means for more active poverty reduction.  
- Social entrepreneurship is also beneficial for citizens who are traditionally marginalized. It would be good to have the Law in place as soon as possible, as it would protect social  entrepreneurs and this type of business is completely compatible with our EU accession path  - Stevanovic emphasizes.
Ikea
SUPPORT FOR UNEMPLOYED WOMEN OVER 50  
In the last six years IKEA has developed several permanent partnerships with social  entrepreneurs worldwide in an effort to support economic, sustainable and social development of the countries where it does business. Social enterprises Swedish company grows partnership with are mainly independent women-led groups and companies; significant amont of profit obtained in that manner provides for earning respect and creating a better future for their families.  
IKEA Serbia, together with social entrepreneurs also strives to improve the overall situation in the community where it is doing business, contribute to poverty reduction and women empowerment. Short after the opening of the its store in Bubanj potok, IKEA hired EkoBag, the Association of Unemployed Women over 50 godina, providing sewing services.
- IKEA contracts two members of this reputable social enterprise, and it provides free of charge space within its facility where they can do what they are best at – sew and make modifications to curtains, pillows, aprons, bags and other products for our customers - explains Jovana Mehandzic Djurdjic, Manager for Sustainable Development of IKEA company for Southeastern Europe, and adds that the company will continue developing local partnership with social enterprises in the future too.
Kurir / Dijana Glogonjac