Refugee children in Belgrade as the victims of violence?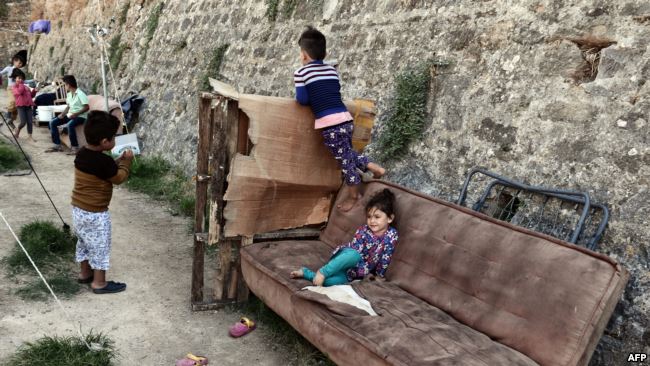 Refugee children in Belgrade as the victims of violence?
Serbian institutions responsible for the care of minors do not have data on cases of sexual abuse of refugee children and migrants, that are traveling alone and unaccompanied, seeking shelter in one of the Western European countries.
Concerning the officials, the allegations of sexual exploitation for miserable financial compensation are still being treated as unconfirmed suspicions.
However, as it was confirmed to us in the Belgrade Center for Social Work, several cases characterized as domestic violence in refugee families have been prosecuted at the same time.
Even when the competent authorities cannot detect children's vulnerability, they are still being warned about it by the non-governmental organizations such as Save the Children.
"Sometimes, we see boys being accompanied by adult males, but that does not necessarily mean that they are their relatives. Therefore, there is a reasonable suspicion that sexual exploration of these boys do exist", says, for the Radio Free Europe Mirjana Milenkovski, a spokesperson for the Office of the United Nations High Commissioner for Refugees (UNHCR) in Belgrade.
However, according to Milenkovski, the activists of this organization who are in the filed can only have a suspicion because other tangible evidence is out of their reach.
Mirjana Milenkovski from UNHCR further starts that "In order to have someone tell you such an intimate details about his life, it is necessary to build up a trusting relationship. Again, it takes time and expertise to build a trusting relationship with such person, especially with a child."
Last week, the Council of Europe presented its report on Protection of refugee children from sexual abuse, indicating that the biggest problems are the collection of data, identification of the victims and their protection. It was reported that, in past two years, there have been more than 10,000 unaccompanied children in Serbia.
Currently, 65 unaccompanied children have been registered in Belgrade, and they are being taken care of by local social welfare center. However, there are approximately 1000 refugees who do not leave in reception centers, out of which plenty are minors. Competent authorities claim that their experts are closely monitoring situation at the barracks near Belgrade bus and train station.
blob:http://www.slobodnaevropa.org/f8662876-8d3a-4eb1-8008-e79a7b288c7c
Representative of the Welfare center, Mikaina Stevanovic, gave a stament to the RSE that the cases of abuse have not been recorded.
"Some information on sexual exploration or abuse of some children have appeared. We do not have such information. There were some suspicions that few cases of violence had occurred among families in Krnjaca reception center, and the police was involved in each of these cases. I cannot speak about individual cases, there are certain work rules and procedures. But Welfare center is obliged to forward all reports of abuse to the police and competent prosecutor's office, whether it concerns children, women, or adults," Mikaina Stevanovic explained.
Even when the competent authorities cannot detect children's vulnerability, they are still being warned about it by the non-governmental organization, such as Save the Children, says their representative Tatjana Ristic.
When there are some indications or suspicion about sexual abuse, we refer our beneficiaries to the Welfare center or to other NGOs that are specialized in this issues and are able to help", says Ristic.
This type of assistance was needed to refugee boys and girls and migrants who were the victims of family violence. In past five months, five cases have been noticed by activists of NGO Atina, which is fighting against human trafficking and gender based violence. 
blob:http://www.slobodnaevropa.org/f01905c9-6a58-4a94-b3c3-271bd4b51710
Jelena Hrnjak from NGO Atina says: "In all the cases that Atina reported, the violence was committed by individuals known to the children, or were family friends. Upon our report, all actions stipulated by the law were taken. Some of these investigations are still ongoing, whereas the children are currently living in protected environment.
She warns that the authorities and the whole society should not easily dismiss the indications that refugee children and migrants, who are living under the open sky in Belgrade, are being sexually abused.
"There are no evidence at present, but that does not mean that it didn't happen. Simply, in order to have the children ready to talk about it, a cooperation between all filed workers and the policy is required. Please note that the children specifically mentioned in the barracks, are in great fear and these are the children who refused being accommodated in any of the centers", stressed non-governmental activist Jelena Hrnjak.
Since 2015, UN High Commissioner for Refugees has been warning that the children are victims of sexual exploitation and that, as they say, was the case in every country along the refugee route.
Text in original: http://www.slobodnaevropa.org/a/deca-migranti-seksualno-zlostavljanje-/28368550.html
Translated by Nikoleta Basic.