Unknown and exploited: Europe's new arrivals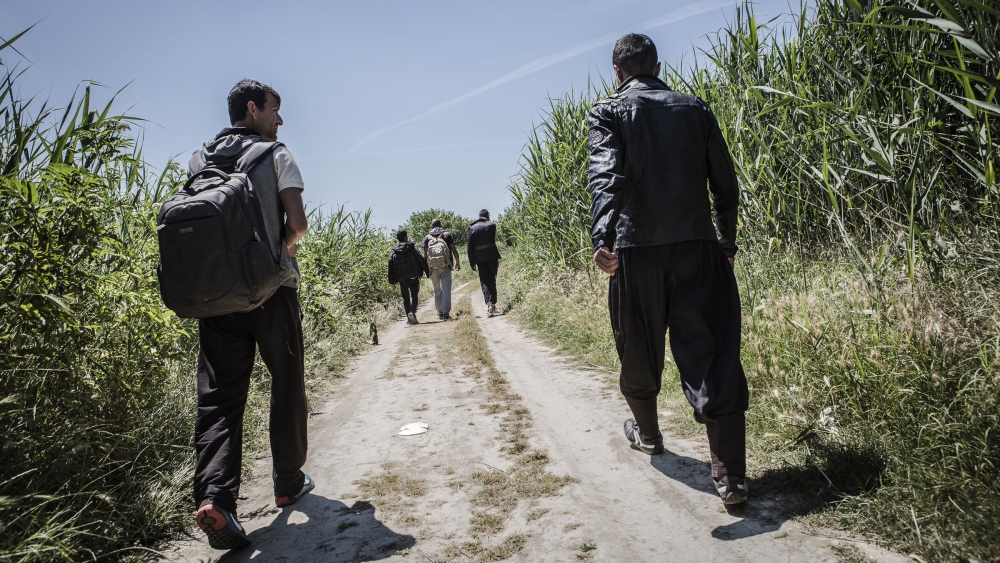 Migrant smuggling and trafficking routes through the western Balkans that went dormant during the latter half of 2015 and early 2016 when migrants and refugees were allowed to move freely between Greece and northern Europe have re-emerged in the wake of border closures imposed nearly four months ago.
Border closures have led to a migrant smuggling boom in the Balkans
Official figures show a sharp decrease in border crossings, but an unknown number of refugees are moving through the Balkans uncounted. Humanitarian organisations warn that their renewed reliance on smugglers makes them more vulnerable and less likely to access protection and assistance.
"Everything went underground with the border closures," said Jelena Hrnjak, director of Serbian anti-human trafficking organisation ATINA. "Refugees are now in the same position as they were in 2014 and early 2015. The old routes that existed before the so-called humanitarian corridor are operational again."
The UN agency for refugees registered 217 new arrivals at Serbia's southern borders with Macedonia and Bulgaria over four days earlier this month, but an estimated 300 refugees are thought to arrive in the country every day without being registered. One UNHCR official anonymously admitted that it is impossible to know exactly how many are being smuggled in undetected.
On Wednesday, Europol, the EU's law enforcement agency, announced that a 36-hour crackdown on smugglers in the region, involving police and border management forces from 10 countries, had resulted in the arrest of 39 smugglers as well as the 580 migrants they were smuggling.
Europol chief Rob Wainwright noted in a statement that more than 7,000 suspected migrant smugglers had been reported to Europol so far in 2016. "It is expected that the prices for smuggling will continue to rise and exploitation is expected to further increase both in countries of transit and arrival," he said.
No other route
Manal, an 18-year-old Syrian travelling with her eight-month-old son, was among last week's registered arrivals in Presevo, a small city on Serbia's southern border with Macedonia.
"I couldn't bear to stay in Greece any longer," Manal explained, describing the poor conditions at the camp where she had been living. "The water was so dirty. I was too sick to breastfeed my son. Even when I asked the doctors for clean water, they only gave [purification] tablets."
She was also desperate to rejoin her husband in Germany. He left Syria when Manal was four months pregnant and has only seen their son in photos. Family reunion procedures through the European Union's Dublin Regulation can take as long as a year. After three months stranded in Greece, Manal decided to join a group of six other Syrians who each paid a smuggler 2,000 euros to get them to Germany. But the smuggler took them only as far as Macedonia before abandoning them in the forest with no food.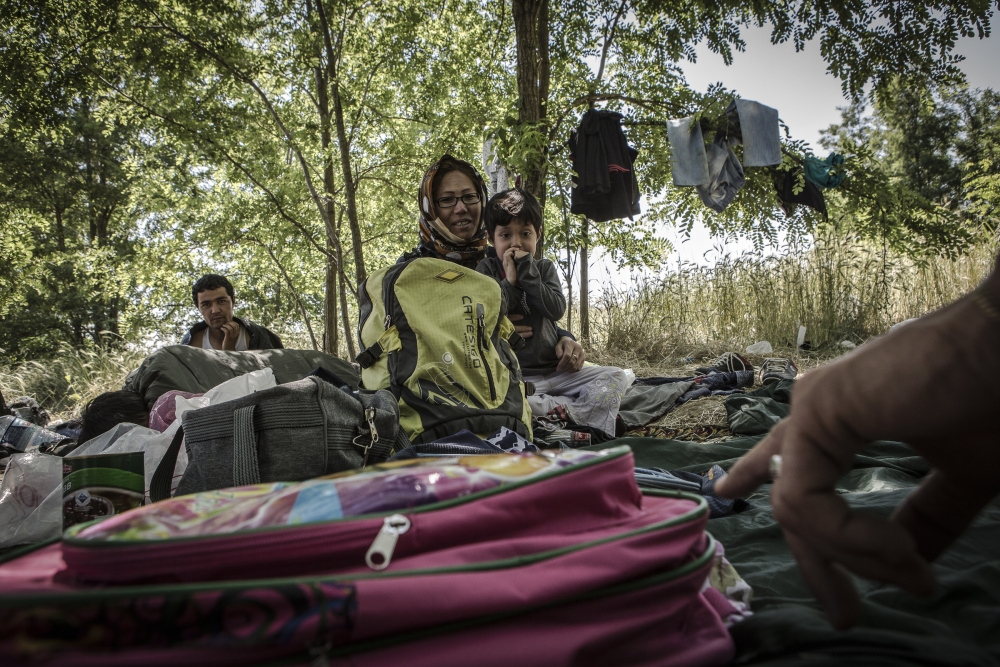 An Afghan woman and her daughter rest in the border area known as "the jungle" between Greece and Macedonia
For three days after he disappeared, the group continued as quickly as they could towards the Serbian border. They spent their days hiding in the forest, their nights walking. Progress was slow, especially after Manal sprained her ankle, but they eventually reached the Serbian border, where they were arrested and transferred to the registration centre in Presevo.
After two days in the centre, the group was still waiting to receive documents that would allow them to travel legally through Serbia for 72 hours. Manal was not sure which country they would be entering next, but said she trusted the men in her group to find a solution – most likely another smuggler – once they reached Belgrade, the capital. 
Big business
A joint report published in May by Interpol and Europol estimated that migrant and refugee smuggling networks earned between $5 billion and $6 billion last year, with 90 percent of travel by migrants to the EU facilitated by members of a criminal network. It predicted a "further diversification of routes… as smugglers adapt their services to increased controls and find new ways into the EU". It also noted that: "While a systematic link between migrant smuggling and terrorism is not proven, there is an increased risk that foreign terrorist fighters may use migratory flows to (re)enter the EU."
According to the International Organization for Migration, 127 people have been arrested in Greece since the beginning of the year on charges of smuggling, but Hrnjak said arresting individual smugglers, often migrants themselves, does little to deter well-established networks.
"It's a transnational criminal activity and needs to be regionally addressed," she told IRIN. "The people who are arrested may be stopped from doing their base-level activity, but the main leaders of the operation remain in place."
IOM is working to collect data on smuggling and human trafficking in the Balkans so it can develop evidence-based responses and help victims. But the collection of accurate information is often hampered by refugees' unwillingness to identify smugglers who they view as their only chance of reaching their final destination.
Ripped off
Saraf, a 25-year-old teacher from Afghanistan travelling with her husband and two brothers, said her group found a smuggler on the Greek island of Samos who offered to get them to Hungary for 2,500 euros each. She did not elaborate on how he got them off the island. Refugees are supposed to remain there until they go through an admissibility procedure and are either returned to Turkey or issued with an asylum card allowing them to travel to the mainland. A UNHCR spokesperson said the agency had heard anecdotal reports of people leaving the islands without authorisation, and that Greek police had stopped several people trying to board ferries with forged documents.
Saraf's smuggler accompanied them on the six-day trek through Macedonia, but abandoned them in Belgrade. Sitting in a park near the city's main bus station, she was unsure how her family would reach Germany: their intended destination.
Hungary erected a fence at its border with Serbia last September. The only legal way in now is via two "transit zones" where Hungarian authorities have been admitting just 30 asylum seekers a day. Hundreds of others are left waiting for weeks at informal camps that have sprung up on the Serbian side of the border. UNHCR has expressed concern regarding conditions at the camps and warned that the long waits are pushing refugees into the hands of smugglers.
"I don't understand how they can take advantage of us in this way," said Saraf, about the smugglers. "But at the same time, they are our only option. We must continue, and the smugglers are our only choice."
According to the Interpol/Europol report, "the basic structure of migrant smuggling networks includes leaders who coordinate activities along a given route, organisers who manage activities locally through personal contacts, and opportunistic low-level facilitators who mostly assist organisers and may assist in recruitment activities."
Vulnerable children
Unaccompanied minors are known to join smuggling networks in order to work off debts incurred during travel, usually by recruiting other refugees to be smuggled.
"From our point of view, that kind of situation could very likely result in bondage once they reach the destination country — or perhaps sooner," Hrnjak said.
A 16-year-old Afghan boy who gave his name as "Ali" told IRIN that he paid a smuggler 1,500 euros to get him from Afghanistan to Turkey, where he spent four months working in a factory to raise money for the next leg of his journey. He then paid 4,500 euros to be smuggled through Bulgaria to Belgrade, where he is waiting for his family to gather the 1,400 euros he needs to pay a smuggler to get him into Hungary. Once there, he plans to make his way to Norway and apply for asylum.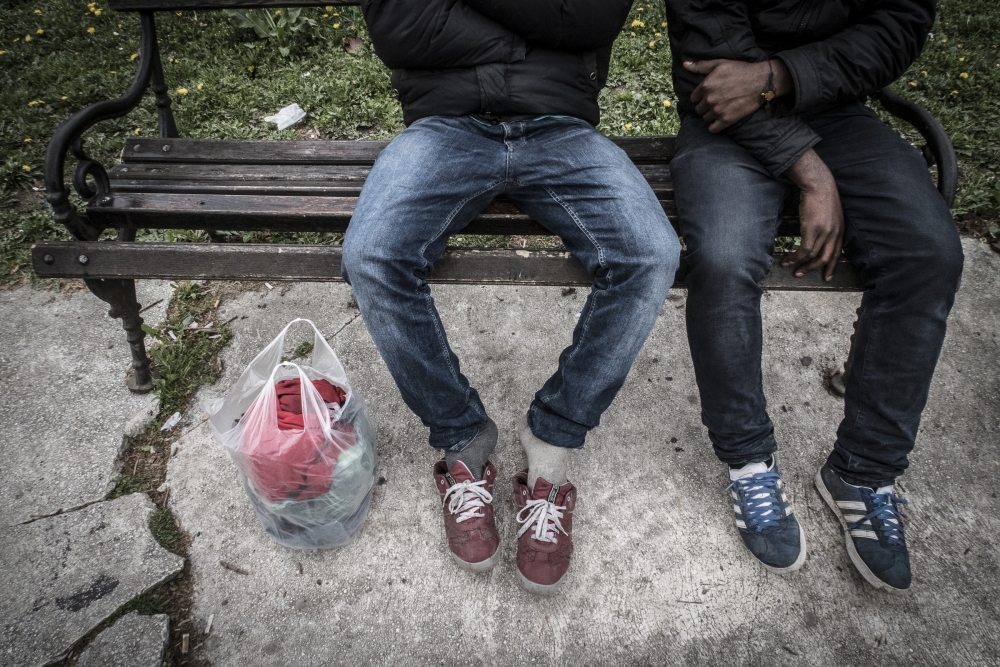 Asylum seekers from Nigeria just arrived in Belgrade with only a plastic bag and their clothes
He said that last week, he and six companions, also unaccompanied minors from Afghanistan, tried to cross into Hungary without a smuggler, but they were caught and beaten by Hungarian border police.
"Twelve policemen found us with dogs," Ali said. "They kicked us and beat us with electric sticks until we ran away from the border."
The group returned to Belgrade, where one of his friends sought medical attention for a wound on the back of his head. Ali said he won't try to cross the Hungarian border again until he can afford to pay a smuggler.
"We need them to open the borders," Ali said. "Until the borders are open, we have nowhere to go."
More about this text can be found here:          
https://www.irinnews.org/feature/2016/06/29/unknown-and-exploited-europe%E2%80%99s-new-arrivals?utm_source=Viber&utm_medium=Chat&utm_campaign=Private