Are we doomed?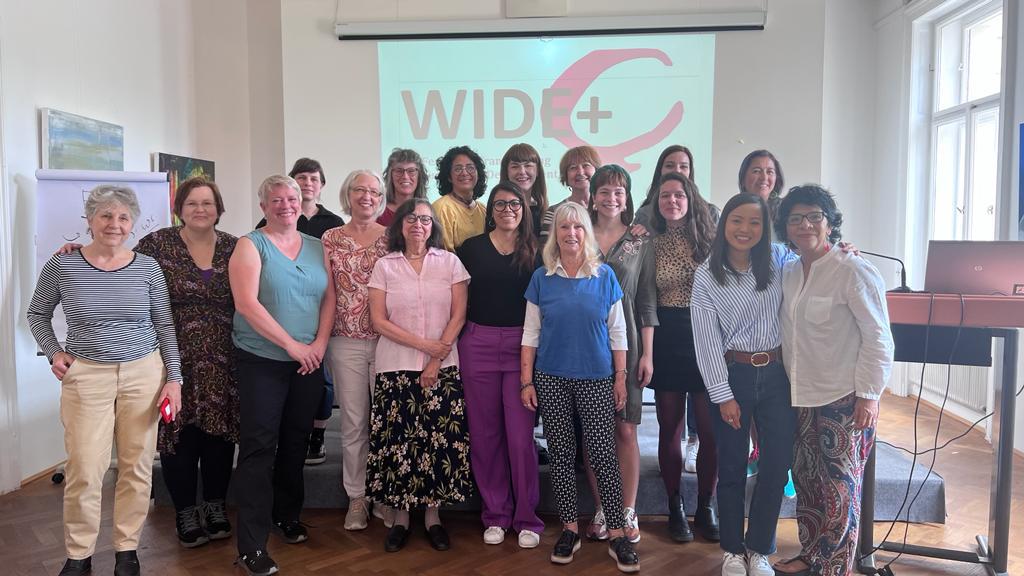 Are we doomed?
In a world that is constantly changing, global transformations have far-reaching consequences for various aspects of society, including gender equality. Incorporating women's perspectives is critical to effective policy design and implementation, ultimately leading to fairer and more inclusive outcomes. Precisely for these reasons, an international meeting entitled "Gender and climate justice" was held in Vienna, organized by WIDE Austria, with the support of the WIDE+ network, as part of the Erasmus+ program, which aimed to offer statistical data, but also tools for capacity building in the process of addressing gender equality and climate change.
During the lectures and workshops, much attention was paid to intersectionality and social justice, as gender equality cannot be viewed by itself, but should be analyzed in connection with other social categories such as race, class, ethnicity, and sexual orientation. Embracing intersectionality allows us to work toward a comprehensive approach to social justice, taking into account the multiple layers of oppression and privilege we face. The issue of climate justice and gender equality is essentially a complex issue that finds its roots in every social aspect and order; therefore it is important to continuously review the current policies that are in force, question and change them where there is a need for it. The most direct example of the complex connection between global changes and gender inequality can be seen precisely in the practice of the lithium extractive industry (so-called "white gold"), which is specific to the area of Bolivia, Chile and Argentina (the so-called "Lithium Triangle"). Namely, in order to switch to a sustainable and "green" way of using energy, a large number of European countries implement the use of electronic devices powered by lithium batteries. Countries of the Global South, rich in lithium reserves, face significant environmental and social consequences due to invasive and harmful extractive practices, indigenous communities, especially women, are often exposed to violence, displacement, loss of access to traditional territories, water and soil pollution. These negative consequences exacerbate gender inequalities and lead to the marginalization of indigenous women. Similar to the lithium triangle, diamond mining in the DR Congo has deep ties to gender inequality, climate change and Africa's debt, stemming from its colonial past. Although the lithium triangle and diamond mining in DR Congo refer to different regions and resources, there is a link between these areas and gender inequality. Diamond mining in the DR Congo is often accompanied by violence, exploitation and human rights violations, with particularly severe consequences for women. They face sexual and gender-based violence, economic vulnerability, lack of access to education and health care, and limited opportunities to participate in decision-making. Through such examples, one can very clearly and transparently see the power imbalance in the relationship between the Global South and the Global North, but at the same time Europe's responsibility to find adequate solutions and respond to the needs of everyone in society.
The question that echoed loudly during the conference was "Are we doomed?". Faced with very challenging statistical data and case analyses, it is clear that the complex struggle for equality is full of challenges and requires an intersectional approach. In addition to the case analyses, the presenters also provided concrete examples in which it is evident that the engagement of women activists from the aforementioned regions has yielded positive results. They managed to successfully protect their rights, integrity and environment thanks to the support of independent and non-governmental organizations. These examples provide a clear illustration of the key role of the non-governmental sector and civil society organizations that provide support to women activists in order to make their voices heard and to strengthen their role in decision-making processes. These organizations provide support, education, resources and networking, enabling women to come together, share experiences and jointly work to achieve the changes they need. Therefore, the answer to the loud question was "No, we are not doomed as long as civil society organizations, non-governmental sector, and activists for women's and climate rights make efforts to address these problems and demand from decision-makers changes in the direction of creating an inclusive, supportive, and healthy society."
The representative of NGO Atina, Iva Đolović, had the opportunity to take part in this gathering and exchange her views on gender and climate change with the present colleagues. Atina has been an active member of the WIDE+ network since 2016, and intensively carries out advocacy activities in the field of improving the position of women with migration experience at the European level, based on decades of experience in providing support to women and girls refugees, migrants, and asylum-seekers in Serbia.
The list of colleagues who spoke at the gathering and topics covered are as follows:
Sarah Louis Montgomery, GenderCC – Women for Climate Justice, Berlin, Germany
Anke Schaffartzik, Social ecologist and environmental sociologist at the Central European University, Department of Environmental Sciences and Policy, Vienna
Patricia Muñoz, WIDE+, Interdisciplinary researcher and expert on gender and intersectionality in sustainable development policies, currently based in Beijing, China
Daniela Paredes Grijalva, Researcher on climate-related migration in Indonesia at the Austrian Academy of Sciences, Vienna
Samantha Hargreaves, WoMin – African women´s network fighting against destructive extractivism, Johannesburg, South Africa
Kiara Groneweg – Women Engage for a Common Future; Junior project manager with a focus on feminist energy transition, Munich, Germany
Christa Wichterich, WIDE+, Sociologist and expert on gender and development, Köln/Berlin, Germany
Martha Salazar, WoMi and KULU, Consultant on gender and environment; intersectional feminist, Copenhagen, Denmark
Elena Georgiadi, GenderCC – Women for Climate Justice, Berlin, Germany
Claudia Falkinger, "Punkt vor Strich GmbH" and "Women in Mobility", Vienna