Atina's representative, Marijana Savić, at the first Gender Equality Hub at the World Economic Forum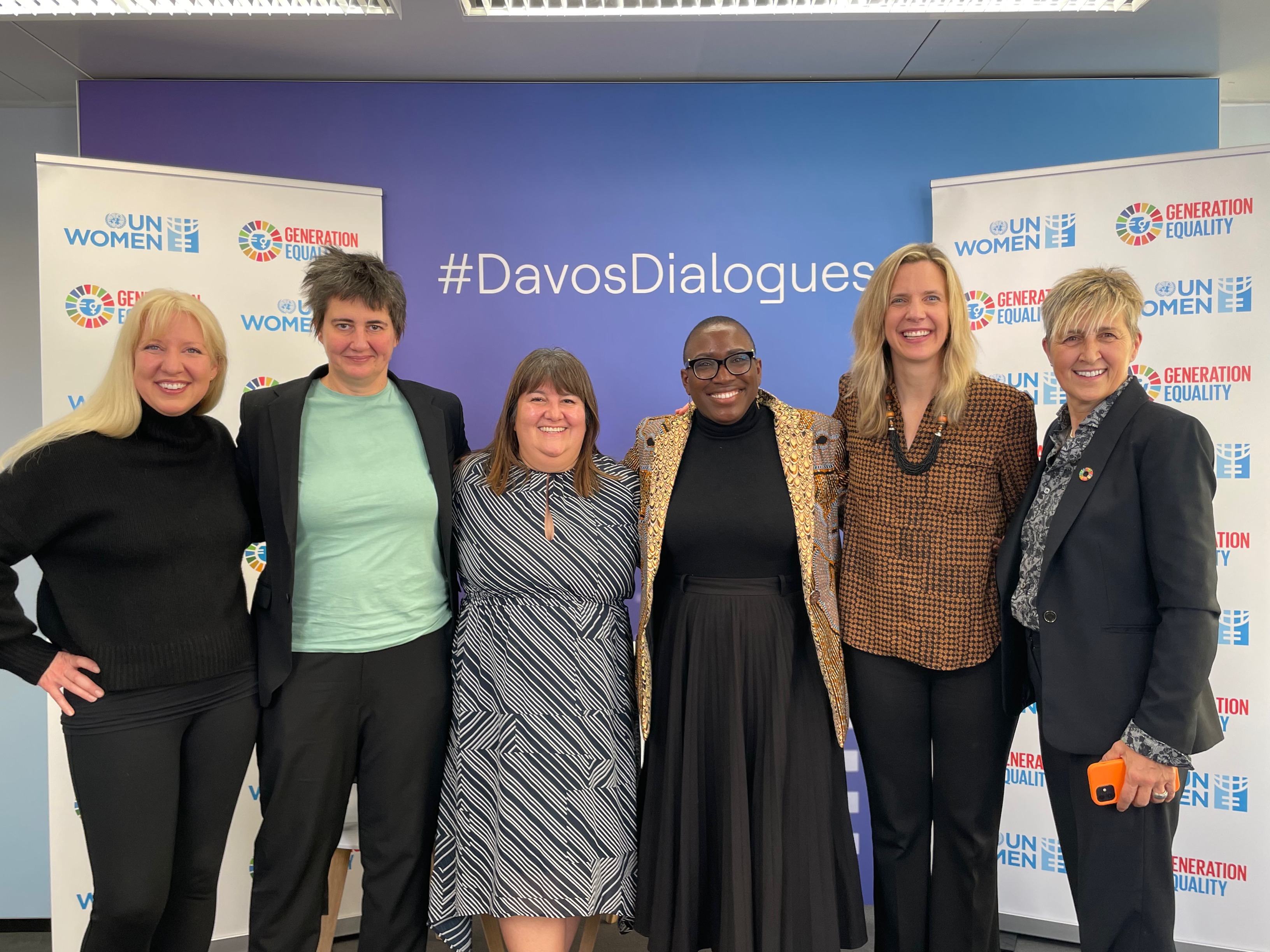 Photo: @sarah_hendriks
Atina's representative, Marijana Savić, at the first Gender Equality Hub at the World Economic Forum
Only this year, World Economic Forum in Davos opened its doors for the first-ever #GenderEqualityHub. On this historic occasion, a great conversation took place, specifically on the prioritization of the agenda for eliminating violence against girls and women. 
The most significant part of the conversation centered around the necessity to fund and support authentic women's organizations directly working and standing by women who survived violence and creating a plan for the next #GenderEqualityHub in Davos to be at the main stage in 2024. 
At the panel "Eliminating Gender-Based Violence through Multi-stakeholder Action," made in partnership with HeForShe Champion HCLTech, Francoise Moudouthe, CEO of African Women's Development Fund; Marijana Savić, Executive Director of NGO Atina; Michelle Milford Morse, VP for Girls and Women Strategy, UN Foundation, and Judit Arenas, Executive Director and Co-Lead for Gender Center of Excellence, APCO Worldwide had the opportunity to share their visions and ideas on this subject. Sarah Hendriks, the director of the Policy Programme and Intergovernmental Division, UN Women, opened the discussion moderated further by Aldijana Šišić, Chief OF Multi-Stakeholder Partnerships and Advisory Services, UN Women. 
Gender-based violence affects too many girls and women
At the very beginning, Sarah Hendriks said that gender-based violence is a human rights violation that is most widespread in the world, that affects too many women and girls, and that none of the actions taken so far to eliminate it have been sufficient enough. She emphasized that the statistics are troubling and show that 1 in 3 women will be subjected to sexual violence in their lifetime, adding that without prioritization of the elimination of GBV as the main topic in our societies, we won't see any lives protected. 
After this, Aldijana Šišić opened a floor for the conversation with four women that dedicated their careers to eliminating violence against women in their communities. 
Francoise Moudouthe shared a disturbing reality that on January 12, 2023, near the Arbinda district in Burkina Faso, the extremists kidnapped 50 women while searching for food. Based on what we know, she said they would suffer highly traumatic sexual violence in the next period until they are found and rescued. Ms. Moudouthe noted that she learned about this horrific event from the women gathered around an informal movement named "Free Arbinda women," working voluntarily and without resources, let alone funds. She also shared OSCE statistics, citing that only 1% of the funds dedicated to gender issues come in direct contact with women's rights organizations working in the field. She emphasized how important it is to invest in such initiatives if we want to speak about eliminating violence against women. 
Michelle Milford Morse drew everyone's attention by saying that all that is necessary is to follow the evidence, and the evidence could not be more apparent. In countries where autonomous, well-funded women's organizations have the resources and support they need, they are changing things significantly. "It's the only thing that works," she concluded. 
Do not question women's agency and their decisions
Marijana Savić has, while talking about the support, shared that it must promote women's agency and build safety and trust around it and that it is not a single intervention but a process that lasts not for days but for years. She said that we live in an era where violence against women is being replicated in new spaces, such as cyberspace, that every conflict exposes women to even greater violence, and that we are not successfully tackling this problem correctly. She shared that we are moving at a snail's pace when we should be jaguars. Savić also emphasized how important it is to invest in those who build partnerships with solidarity and empathic leadership, invest in women's organizations that authentically and unconditionally trust women's agency, and do not question their decisions. Judit Arenas emphasized that even though there is some progress, it is a fact that women's rights are regressing; and that we are again seeing and testifying to the use of sexual violence as a weapon of war currently in Ukraine;
Also, at this particular panel, a plan was made for the following year's #GenderEqualityHub at the Davos World Economic Forum, and that is to invite more women and spread the word about these critical issues; to have more young feminist voices, activists who are fighting for climate change, women survivors of violence. As a closing word, Aldijana Šišić has called everyone to action to ensure that the topic of violence against women gets on the stage next year in Davos.
We invite you to watch the recording of this incredible panel: https://www.youtube.com/watch?v=9lZ1aMBEcUA