BIZLife "They were practicing recipes for months and created a Serbian style bagel"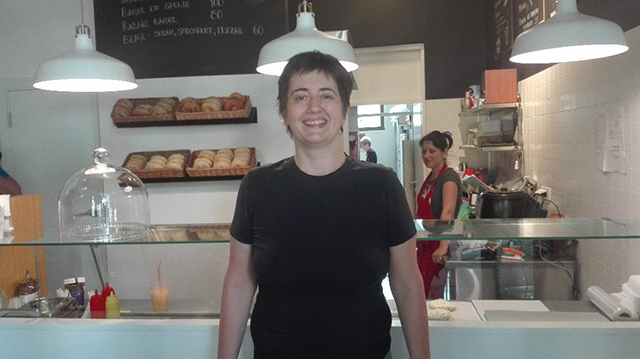 They were practicing recipes for months and created a Serbian style bagel
 
BIZLife 
07:42 Belgrade, 11/06/2018
Bagel Bejgl is a social enterprise founded by Citizens' Association "Atina". Currently, there are eight women in the shop who are making those deli bagels and sweets. Recipes have been tested until they finally achieved the taste they imagined, and their products are made out of the highest quality ingredients. They believe this is the right way to do it, and an opportunity to acquire knowledge and experience in order to facilitate their job search.
"Social enterprise Bagel Bejgl was founded in 2015. We received the investment of 22,000 EUR although the business plan predicted 46,000 EUR instead. We had to cut down the expenses. We didn't rent a shop in the heavy foot traffic zone, but this one at Knez Danilova Street. It turned out to be a good decision, because our overhead expenses were low. We bought a pastry machine, a mixer, tables and that is how we started. Meanwhile, we have been improving our equipment, as well as our products. Now we have a professional oven and refrigerators, but we are still improving our business", says Marijana Savic, director of Citizens' Association Atina that combats human trafficking.
The idea to produce this pastry was initiated by the fact that Belgrade market did not offer it. They practiced a lot in order to perfect the recipe by collecting various recipes for eight months.
"We had tried hundreds of recipes until we found the one we liked. We tested our taste by offering it to people from the US, because they eat it every day, just like we eat burek. They gave us some suggestions we adopted. We discovered recipes on the Internet, tried, practiced, and improved. We use ingredients that are being used in the best bagel shops", says Marijana.
Bagel dough requires long kneading process in order to develop a protein that gives bagels a special flavor. It is shaped by hand and refrigerated up to 18 hours to slowly rise. After that, it is being boiled for about 30 seconds, then baked, and used to create savory and sweet bagel sandwiches.
"We are strictly buying highest quality ingredients. We purchase them mostly from small, family owned farms. For example, we buy kajmak at a family farm located near Valjevo, and it is the same with other ingredients as well. We try to network and support each other".
Marijana says that catering brings the highest profits, and is being served at various cocktail parties, birthday parties, schools, companies. They are slowly expanding their business to offer their products to restaurants and cafes. That will be their focus in the future.
"This is our fourth year of work. We are planning to create a strategy for the coming period. We would like to expand our bagel production, and become a wholesale distributor. That is one aspect of development. We have also started, and it will be expanded, to serve bagels in restaurants, cafes, and bars that are interested in offering them".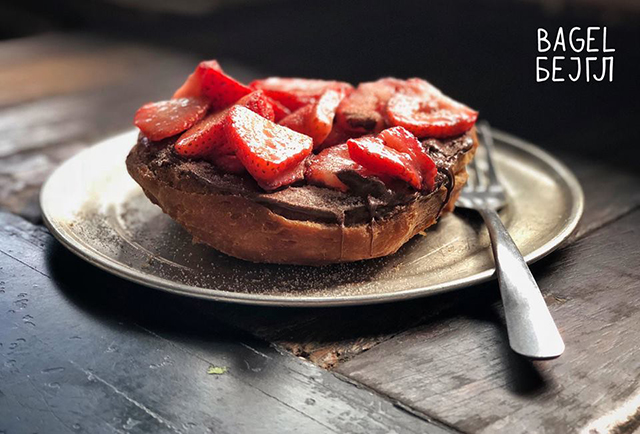 Camila, Duchess of Cornwall and Prince Charles' spouse, visited Association Atina and Bagel Bejgl shop during the visit to Serbia. Marijana says that was a great honor for them, because they have been recognized as an organization that encourages changes.
Bagel Bejgl shop is one of the winners of the competition "Ideas for a Better Tomorrow", conducted by Unicredit bank, Unicredit Foundation, Ana and Vlade Divac Foundation, and Smart Collective.
The funds obtained through this competition were used to improve the business, employ a competent person to develop a catering offer, improve product branding, as well as to develop a design of recyclable cardboard packaging.
Source: BIZLife
Author: Tanja Njegomir