Come to the march in Belgrade for women's rights, solidarity, and peace, March 8, 2022, 4-7PM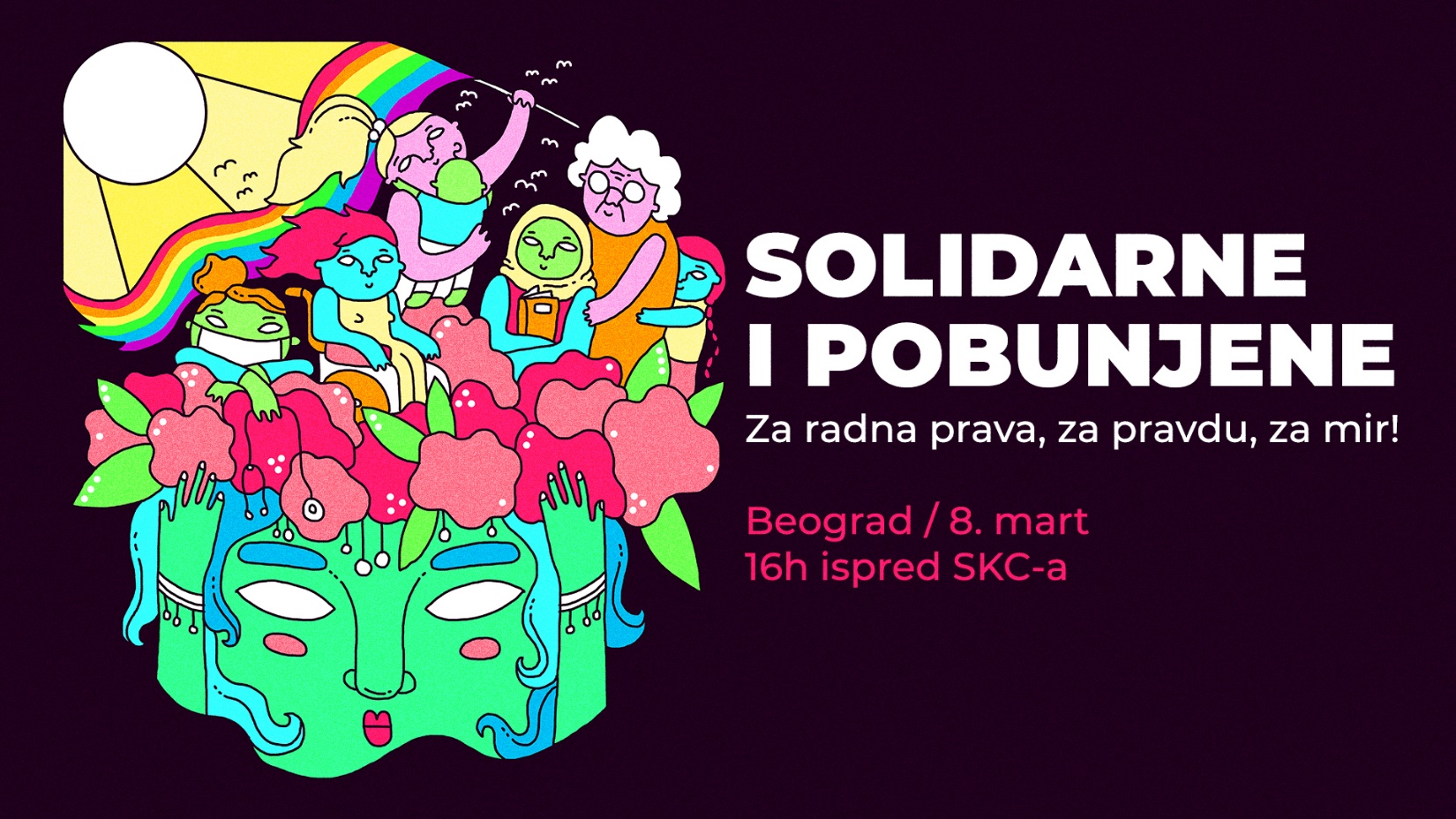 SOLIDARY and REBELLIOUS!
Belgrade march for women's rights, solidarity, and peace, March 8, 2022, 4−7PM
March 8 is the day when we stand up together and join the efforts and victories of brave women who have been leading the fight in this area for 111 years now. However, the fight for women's rights is not over, and this year, we stand in solidarity for women living in injustice, poverty and violence. That is why we invite all citizens to join us in the protest march for women's rights on Tuesday, March 8, at 4 pm, in front of the Student Cultural Center in Belgrade.
WE HAVE MANY CAUSES TO SPEAK, MARCH, AND REBEL
We are drawing the attention to women's labor rights, to the fact that, as women, we are hired in less paid positions, under less favorable conditions, and that we often fear losing our jobs. This is especially noticeable when it comes to single mothers, Roma women, women with disabilities, women from rural areas, lesbians, trans women, and other discriminated groups. While some European Union countries are reducing working day to 6 hours, factories in Serbia have extended it to 10 or 12 hours.
Endangering the environment has escalated in favor of the profit, under the guise of progress and creation of new job positions. The seizure of land, water, and air is being legalized. Women across Serbia have taken on a huge responsibility in the fight for a healthy environment through the organization of rallies and protests.
Today, another war is being fought on our continent, which is leading to another refugee crisis and destruction. The citizens of this region know who pays the highest price in war. That is why we express solidarity with the women and men of Ukraine, but also Afghanistan, Yemen, Syria... We appeal for a peaceful and sustainable solution to all these crises.
Violence against women, and in particular sexual harassment and blackmail at work, are still insufficiently reported and prosecuted. Violence against women in public space is escalating, and domestic violence is not subsiding. Women do not have the economic independence or the support of society and institutions to cope with it.
The pandemic has hit women harder than men. Responsibilities around children, the elderly and the sick, have again become (only) women's concerns. The burden of housework has increased dramatically, and women and men do not share it equally.
For all of these reasons, we invite you to the March 8 march.
SOLIDARY AND REBELLIOUS!
FOR LABOR RIGHTS! FOR PEACE! AGAINST VIOLENCE!
Signatories:
Civic Initiatives
Alternative Girls' Center
Ipak.Center
Women's Association Peščanik
BeFem
NGO ASTRA
Center for biopolitical education
Organization for political ecology Polekol
Initiative Pravo na vodu
Political platform Solidarnost
Obrenovac Youth Foundation
Talas TIRV
FemPlatz
Center for Women's Studies
Women's Leadership Academy
Women's Platform for the Development of Serbia
NGO Atina
Association Fenomena
Roma Center for women and children Daje
Women's Center Užice
Radio program Zvučna etnografija
Centar za podršku ženama
Citizens' Association Impuls
Women's Solidarity
Rebelled Readers
Association Krokodil
Uniquely Abled Center
Modern skills Center
Section of women SSSS for the city of Zrenjanin
Syndicate Zastava Arms
Vege community
Reconstruction Women's Fund
Belgrade Pride
Social Center Oktobar
AFŽ – Autonomous Festival of Women Novi Sad
... and morer than 50 independent activists