The hidden form of labor exploitation: domestic servitude during COVID-19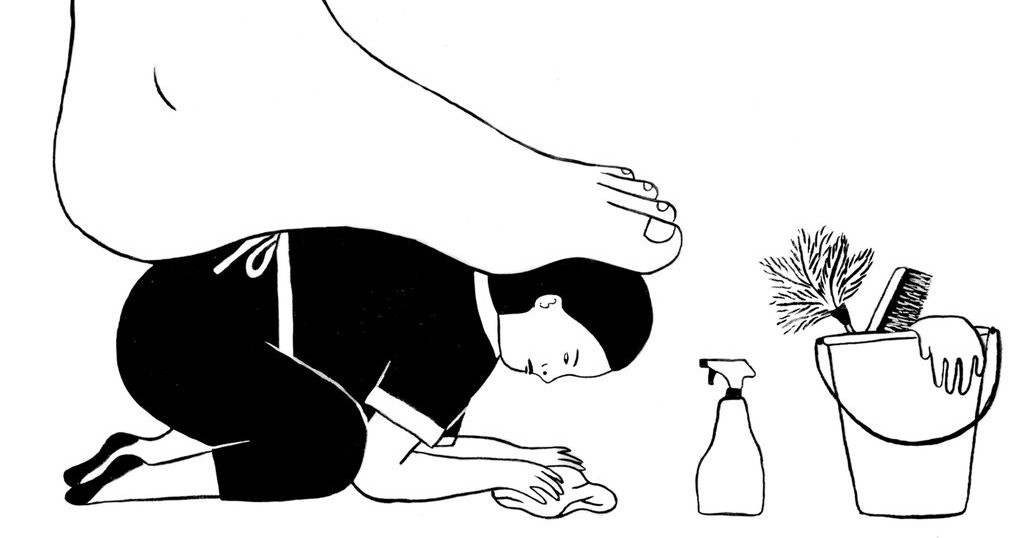 The hidden form of labor exploitation: domestic servitude during COVID-19
Illustration: https://umdgenderandglobalization.wordpress.com/
The pandemic had unforeseen impacts in many countries and different groups of people experience it differently. One of the most impacted groups were domestic workers, especially those who are being exploited in domestic servitude.
According to a UNODC Thematic Brief:
"For the victims still in confinement by their traffickers, COVID-19 measures may make their desperate situation even worse. The increased levels of domestic violence reported in many countries is a worrying indicator for the living conditions of many trafficking victims, such as those in domestic servitude or sex slavery, forms of exploitation that disproportionately affect women and girls. In an environment where priorities and actions are geared towards limiting the spread of the virus, it is easier for traffickers to hide their operations, making victims increasingly invisible. (…) COVID-related measures may disproportionately affect certain categories of people at risk of exploitation. Undocumented migrants and seasonal workers are faced with more precarious working and living conditions, resulting in greater vulnerability to falling prey to criminal networks. There are concerns that people in the sex industry and domestic work will be more vulnerable to exploitation, as health hazards and exposure to COVID-19 increase."
Domestic workers around the globe are mostly women and girls, and many of them are either undocumented or under the strict control of employers, who often keep their passports. The situation is particularly difficult for migrant domestic workers across the Middle East, in countries where the Kafala system is in place.
The Kafala system is a kind of sponsorship system that directly connects the immigration status of worker to the employer, of which the worker is dependent on for sustenance and residency. Many workers are exploited through this strict sponsorship system due to the significant power imbalance between employer and worker.
Female migrant workers, in particular, which usually work as domestic servants have been found to be highly vulnerable to gender-based violence within this system, subjected to labor and often sexual exploitation. Social media in countries which implement the Kafala system has routinely been linked with cases of human trafficking and even online slaves' markets.
During COVID-19, the vulnerability of these workers only increased. Overburdened with care responsibilities and exposed to contracting the virus, these domestic workers risk being abused in the homes their work in, but are left without options in case they choose to leave.
Impact of COVID-19 on domestic workers globally
The Kafala system might be the clearest example of how regulations penalize migrant domestic workers. But in other countries, domestic workers continue to exist in a fine line between employment and labor exploitation.
The International Federation of Domestic Workers (IFDW) has been carefully monitoring the situation in several countries. They explain why COVID-19 is severally impacting domestic workers in a negative way:
"Domestic workers are often left out of labor protection laws or systems and social security because of how domestic work is perceived: a manual form of labor, historically expected to be given for free by women in private households. DWs thus face multiple vulnerabilities because they are women from the global south, often coming from disadvantaged classes, and subjected to racism and xenophobia if they are migrants. DWs are left out of relief or assistance plans."
Self-isolation cuts domestic workers from support networks, and lockdown measures either mean loss of income – and risk of poverty – or the obligation to go to work, even in unsafe conditions – thus risking becoming infected.
Also, because domestic work has generally been considered as either not work at all or as informal work, most domestic workers do not qualify for official governmental grants. Even though, as IFDW reminds us, domestic workers often do essential care work, they are only considered as "essential workers" when employers refuse to let them stay at home with pay for their own safety. Otherwise, their value is not recognized.
Therefore, considering how domestic work is consistently devalued and how domestic workers usually occupy a lower social position in societies due to multiple factors (socioeconomic status, migration status, ethnic or racial identity, etc.), it is no wonder the kind of labor trafficking that specifically targets these kinds of workers – domestic servitude – is usually not talked about at all.
Domestic servitude is invisible during a pandemic
Domestic servitude is forced domestic labor and it usually takes place in a private home. Because of that, it is usually harder to detect, and the victims of domestic servitude often share the same vulnerabilities and face the same obstacles to getting help as other victims of human trafficking.
Freedom United, an anti-slavery movement, explained in a very clear way why COVID-19 was especially pernicious of victims of domestic servitude:
"With employers being home most, if not all, of the day, for those who are still working, we can reasonably expect an increase in the oppression, control, and surveillance of migrant domestic workers. This makes the possibility of escape even more improbable under COVID-19 lockdowns. Additionally, the pandemic has caused an increase in unemployment and respective decreases in family income. These financial circumstances may lead to more migrant domestic workers having their pay withheld and may even cause greater restrictions on their food intake. Thus, the possibility is ripe to either aggravate an already terrifying situation for enslaved domestic workers and create new situations of forced labor for domestic workers who were not enslaved."
The pandemic not only makes it harder for victims of domestic servitude to ask for help, it might also drive employers to demand forced labor from workers which were not in a situation of exploitation prior to the pandemic.
As the global economic crisis intensifies, more and more women and girls will be forced to enter exploitative labor "contracts" to provide for their families. COVID-19 should open our eyes to the dangers of domestic servitude and governments should focus on combating this specific form of labor exploitation, which mostly affects women and girls worldwide.
If you recognize
that someone is a victim of human trafficking,
IT IS IMPORTANT
not to be silent and turn a blind eye!
Call and report the criminal offense of human trafficking via:
NGO ATINA
Citizens Association for Combating Trafficking in Human Beings and All Forms of Gender-Based Violence
SOS hotline: +381 61 63 84 071
office@atina.org.rs
This campaign is a part of the project "Prevention and Combating Human Trafficking in Serbia" conducted within the joint program of the European Union and the Council of Europe "Horizontal Facility for the Western Balkans and Turkey II" which is implemented by the Council of Europe. The views expressed herein can in no way be taken to reflect the official opinion of either party.​