Ideas for a better tomorrow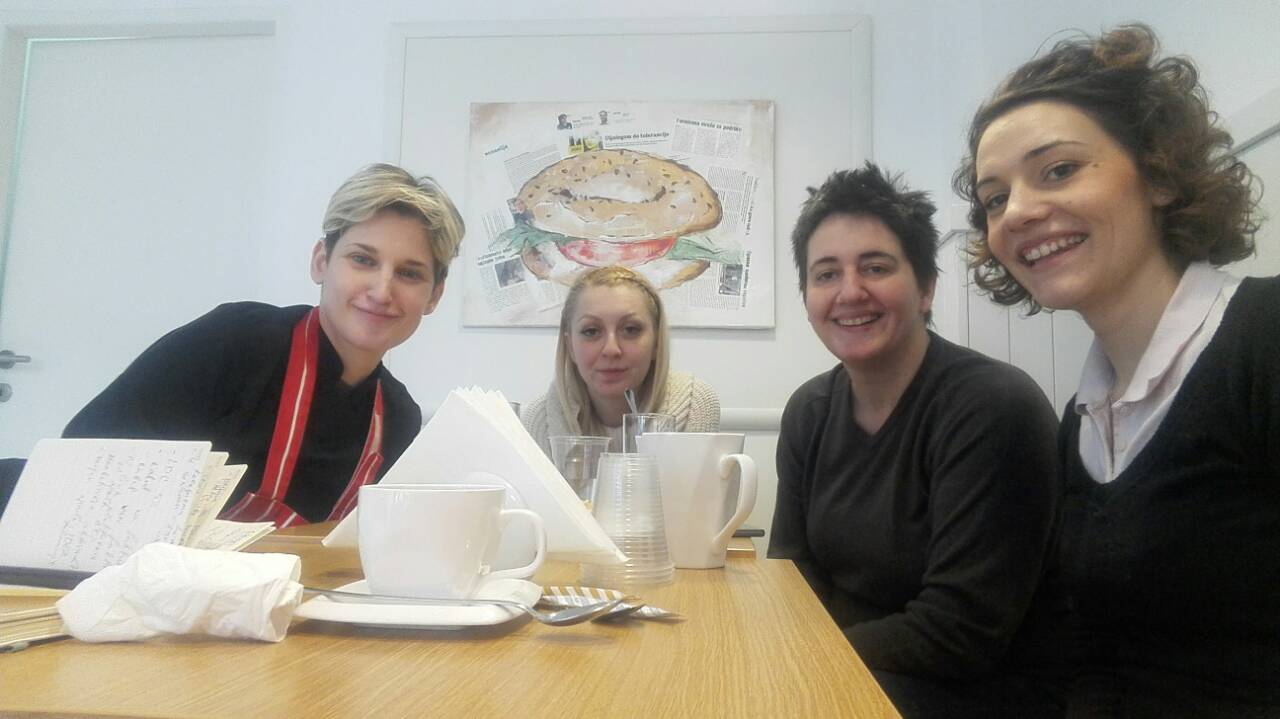 Idea for a better tomorrow
Social entrepreneurship in Serbia is picking up its pace - from food and fashion industries to media with the aim to support the most vulnerable categories of citizens
Within the third edition of competition "Idea for a better tomorrow", UniCredit Bank, UniCredit Foundation, Foundation Ana and Vlade Divac and Smart kolektiv, have recently organized Media Caravan. Five out of seven competition winners were awarded grants totaling 40,000EUR. Participants in the caravan had a chance to get familiarized with the  Association of Citizens for Fight Against Human Trafficking and all Forms of Violence Against Women "Atina", the Association of Citizens "Liceulice", Citizens' Association "Vunena", Initiative for for Social Empowerment and the Association for Supporting Persons with Disabilities "Naša kuća", who thanks to the educational trainings, specialized mentor support and grants, managed to enhance their business.
The Association of Citizens for Combating for Fight Against Human Trafficking and all Forms of Gender-Based Violence "Atina" used the awarded grant for enhancing the work of social enterprise "Bagel Бејгл", by hiring an expert who has developed not only innovative offers for catering, but also upgraded product branding and packaging design. More information can be found on the website  www.bagel.rs
Marijana Savic: "The importance of competition "Idea for a better tomorrow" is multifold – thanks to the financial support we have enhanced the offer and raised the capacities of social enterprise, and the development of new "eco" packaging is very significant to us. Also, the mentoring program has helped us with defining a new communication strategy and the way we want to present our business. The greatest success reflects in a possibility to continue with activities on economic empowerment of our beneficiaries who have the opportunity to acquire necessary skills and professional practice through their social enterprise Bagel Бејгл, which facilitates their access to the labour market."
Citizens' Association "LICEULICE" has managed to develop an online fund raising platform, to open an online store and donation page,  as well as to expand the network of sellers at the territory of Novi Sad, thereby enabling economic empowerment of marginalized groups outside of Belgrade too. More information can be found at www.liceulice.wordpress.com      
Nikoleta Kosovac: "We are a small organization with a great mission. According to official data, almost a quarter of Serbian population aged over eighteen lives poverty or in some form of stigmatization and/or isolation. Our sellers are not settling with their status. Quite to the contrary,  even though they initially seemed hapless, they have made a huge progress and are working hard every day to earn money and improve theit position.  We are looking for the ones who can help them on this path, because any every donation is more than it can be counted in money. On the other hand, it is crucial for us to have a partnership with donors, and then things get really better, becase we make them better in joint effort! Therefore, we are glad that the potential of Liceulice was also recognized during "Idea for a Better Tomorrow" competition. This support will directly affect the lives of some of the most vulnerable people in Serbia. We will continue to work jointly on this, because we are shooting at the same goal."
Citizens' Association "Vunena", thanks to the competition "Idea for a better tomorrow" managed to implement its project called "Vunena goes international". Namely, by performing at one of the most important fashion week in Milan in February 2018, "Vunena" presented its latest collection and made some excellent networking, thereby secured new orders and a chance to present the same collection at the London fashion week in July 2018.  More information can be found at www.facebook.com/vunenatheclub
Milica Bainovic: "For Vunena, Ideja for a better tomorrow was a project of great importance because it has helped us establish international contacts and enable the placement of our product on the foreign market. Aside from that, the mentoring program was a very compelling experience that connected us with new suppliers and other interesting persons, but primarily, the cooperation with the mentors has improved our internal organization and the way of doing business."
Thanks to this competition, the organization Initiative for Social Empowerment  has managed to improve initiative "Chrono.rs" that deals with production of a flour mixture for bread tailored to specialized nutrition (Chrono, paleo, diabetes diet). In addition, redesigned product packaging is being developed for the purposed of potential access into large retailers.  The allocated grant was also used for leasing a larger space within the industrial zone of the city, thus consolidating the procurement and sale services. More information can be found at www.chrono.rs
Valentina Bogdanovic: "The social economy path is interesting, exciting and it is personally rewarding. Enthusiasm, small and great victories, big and bigger ideas, recognized and respected users. This journey is not easy, and therefore success is doubled.  The funds we have received thanks to the "Idea for a better tomorrow " competition is invaluable, but partner's support is even more valuable than the money."
The project "Healthy Garden - Hydroponics Center for Vegetable Production" " is a new initiative of the Association for Support of People with Developmental Disorders "Nasa kuca". Thanks to the competition Idea for Better Tomorrow, complete equipment for hydroponic vegetable growing was procured: shelves, ice lamps and parameters of parameters necessary for proper plant growth, such as Ph value, humidity, temperature and concentration of nutrients in the solution. Also, the Association moved to a new area where suitable conditions za hypodroponic vegetable growing were provided. More information can be found at  www.facebook.com/nasa.kuca
Anica Spasojevic: "The support we have received throughout this project has been essential, especially in the area of financial management and marketing strategy development. Moreover, we have managed to develop innovative technology of hydroponic plant growing; we contracted an agronomist and engaged several of our beneficiares into plant growing process."
On competition "Idea for a better tomorrow"
Since 2012 godine, UniCredit Foundation and UniCredit Bank, with the support of Ana and Vlade Divac Foundation and Smart kolektiv, have been working on the development of social  entrepreneurship in Serbia. So far three rounds of competition "Idea for a better tomorrow" have been completed. Thanks to its 140,000EUR funding the development of 23 product and service ideas have been enabled, thus contributing to the improved image of our country both domestically and internationally, as well as to enhancing its export potential. Our initiatives are the best indicator of how big social entrepreneurship potential truly is: 50 representatives of social enterprises have participated in the programs on business skill development (from financial management, modern technology skills, to product placement and promotion), over 40 new work places have been created which had a positive influence on over 300 family members and at least 1,000 people from local communities, such as associates, suppliers and clients.