Labor exploitation of truck drivers during the COVID-19 pandemic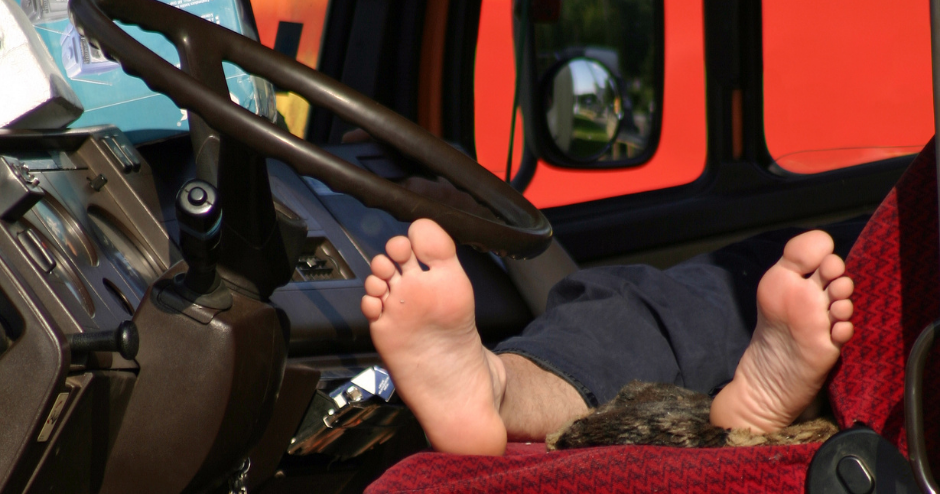 Labor exploitation of truck drivers during the COVID-19 pandemic
Photograph: www.ttnews.com
International federation of trade unions recently released a report about how contracted foreign drivers from low-wage countries were being exploited by the transport industry.
Several exploitation schemes have come under scrutiny during the COVID-19 pandemic, which has exacerbated abusive practices in several industries. However, the transport industry had been largely absent from reports, which mostly focused on migrant agricultural workers or care workers in Western European countries.
Exploitation to meet demand
According to the report, the EU had already been struggling with a shortage of truck drivers to meet the demand. Bad working conditions and difficulties in attracting both young people and women to become drivers were some of the factors identified. Organizations of the sector had been pleading for better working conditions and for companies to focus on employing nationals of their home countries, thus ensuring a more balanced distribution of drivers throughout Europe.
Instead, the 2020 report states that companies chose to develop "new exploitative business models", which mostly relied on employing drivers from non-EU countries. These drivers were hired on the EU countries which the lowest wages but were then asked to work in the richest European countries.
The report presents the main problems that were already common before the pandemic:
"Drivers are enticed to work in the European Union (EU) from the Ukraine, Belarus, Uzbekistan, Turkey, the Philippines and other non-EU countries;
They are employed on Eastern European contracts despite almost exclusively working in Western Europe;
They are often forced to sign contracts in languages they cannot read;
Employers are moving groups of drivers by minibus to Western Europe to begin their work;
Non-resident drivers are paid average fixed salaries of around €100-600 per month and many drivers are denied pay for their previous work;
Drivers rest, sleep, eat and live in their vehicles for months continuously;
Drivers are briefed and supplied with false documentation to mislead authorities about their employment status, and are told not to answer questions on driving and resting times;
Drivers were threatened with violence and financial penalties for complaining about health and safety, pay and other issues;
Human trafficking is a growing problem in the industry. Victims from outside the EU are trafficked into Eastern Europe, work in Western Europe, and often find themselves stranded without the financial means to return home; and,
Employers exploit the lack of checks and controls of road transport and labour and human rights regulations by enforcement authorities and multinational customers at the top of supply chains."
To meet the demand by EU companies from Western Europe, trucking companies in richer countries subcontract others in lower-wage countries. The subcontracted companies then sign exploitative contracts with non-EU nationals in Eastern Europe to be their drivers. The drivers are not informed about their rights and hardly ever understand the language in which contracts are presented.
For non-EU drivers to reach Eastern Europe, they often have to borrow money to pay for the trip. As such, this initial financial investment traps drivers, and they are unable to refuse work once they arrive.
After the contracts are signed, the drivers are sent to Western Europe and instructed to fool auditors and law enforcement. According to the report, many drivers stated they were given false documents which supposedly presented a normal living wage for Western Europe.
Instead, they are living with extremely poor wages. The drivers can hardly afford to sleep anywhere but the trucks and they are forced to self-medicate when they are ill. Without getting appropriate resting time and driving too long, the drivers are under extreme physical and psychological pressure.
Because in Europe drivers are legally required to have "Code 95" training and certification, the trucking companies force drivers to pay for it without receiving it. Therefore, drivers have certificates without having ever been trained.
Whenever the drivers are found to be committing illegal acts, the companies are quick to leave them and replace them as fast as possible. An Asian driver employed originally in Slovakia, and who has since been officially recognized as a victim of trafficking for labor exploitation, shared his testimony:
"I lived for months in my truck and did not receive my salary. I was stopped on the road in [country redacted] and the company was penalised. The company did not want to pay the penalty and left me in the truck parking area for several days. Later on the employer came in the middle of the night, pulled me out of my truck and put a Serbian driver in the truck to replace me. I was left in the parking area in the rain, in the middle of the night."
Worsening conditions under COVID-19
After the start of the pandemic, exploited drivers were in an increasingly vulnerable situation. The report once highlights the main problems caused by COVID-19:
"Multinational customers and transport companies are exploiting the crisis to reduce transport prices and driver pay respectively;
Drivers are being provided with little or no personal and protective equipment (PPE), and when they are informed about the risks, drivers are being asked to find and buy their own PPE;
Exemptions to driving and resting time regulations have led to employers misleading and coercing drivers into working dangerous hours and ignoring the risks of driver fatigue;
Drivers are effectively forced to stay with their vehicles in places with no access to clean water, functioning toilets or free showers;
They are being denied access to sanitation facilities; and,
They are not receiving sick pay and employers ask drivers to take unpaid leave when they are sick."
In blatant disrespect for all labor regulations in the EU, the exploitative practices of the transport industry are not only putting drivers at risk. Lack of concern with contagion and drivers' health places everyone they are in contact with at risk of getting infecting with COVID-19.
The exploitation of drivers is only the latest chapter in a series of abusive practices that have come to light during the pandemic. It seems the EU's supply chain – from agriculture to transport – is finally exposed as a nest of labor exploitation, at the expense of migrants from non-EU countries.
If you recognize
that someone is a victim of human trafficking,
IT IS IMPORTANT
not to be silent and turn a blind eye!
Call and report the criminal offense of human trafficking via:
NGO ATINA
Citizens Association for Combating Trafficking in Human Beings and All Forms of Gender-Based Violence
SOS hotline: +381 61 63 84 071
office@atina.org.rs
This campaign is a part of the project "Prevention and Combating Human Trafficking in Serbia" conducted within the joint program of the European Union and the Council of Europe "Horizontal Facility for the Western Balkans and Turkey II" which is implemented by the Council of Europe. The views expressed herein can in no way be taken to reflect the official opinion of either party.​