N1: It is strange that the case was opened on Palma's request, relocate it outside of Jagodina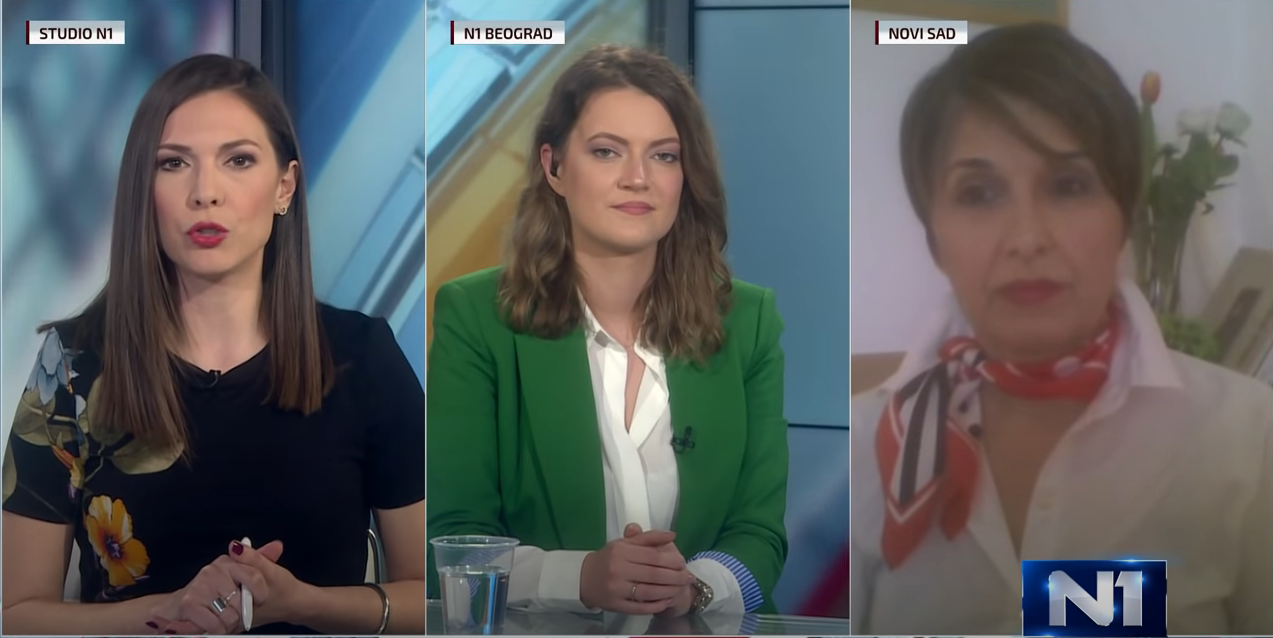 N1: It is strange that the case was opened on Palma's request, relocate it outside of Jagodina
Photo: N1 YouTube screenshot
Marija Srdić from the Anti-Fascist Coalition, founder of the Women's Support Center, and Andrijana Radoičić Nedeljković from NGO Atina, told N1 that "Palma case" should be processed outside of Jagodina because there is evident distrust in institutions.
"The formation of the case is a minimum and a basic reaction, I would not overly praise that decision. The public insists for the case to be moved to another prosecutor's office because there is a basic distrust in the institutions, and in their independent dealing with this topic. I understand those who insist on relocation," said Andrijana Radoičić Nedeljković.
As for the topic itself, Marija Srdić feels that it is good that the case is opened, but it is strange to have it formed at the request of the defendant.
"The way in which the case is opened is unusual, there are doubts about the proceedings taking place in Jagodina. This case has been known for some time, we heard Igor Jurić who spoke about a pedophile politician last year, and it was an opportunity to open the case, but it was not done due to leakage of information," said Marija Srdić.
She adds that politicians are not prepared to resign and take responsibility.
"I do not believe that will happen. The first defendant belongs to the ruling coalition, we need to see how the ruling party will react, there is still no official statement of the Prime Minister Brnabić, nor President Vučić. Zorana Mihajlović gave a statement, but it would have been better not to, and she is the president of the Coordination Body for Gender Equality. When she looks back at the results, she will be ashamed of that statement, it will certainly be in the top ten," said Srdić.
Andrijana Radoičić Nedeljković said that resignation would be the only way to show the readiness of the political leadership to talk in an adequate way.
"It is a way to avoid the sensationalism we are all witnessing, because the victims are often exposed to lynch and media violence, so the question is how we will talk about it in the future if the public turns into a courtroom and questions are asked how, when, and why something was reported. One of the greatest fears of the victims is whether someone will believe them, and then whether they will be exposed to sensationalism, media lynch, and that has been shown and confirmed, so the victims feel valid fear," Radoičić Nedeljković believes.
Marija Srdić says that she heard the news that 393 women from Jagodina filed criminal charges against Marinika Tepić, and adds that revenge already began against the person who opened this topic.
"The most descriptive thing is to say that Jagodina is a captive city, its citizens are prisoners who suffer from the Stockholm syndrome, and I think those women are scared as well, and that is why they are protecting their executioner," Srdić said.
She explains how victims of sexual violence should be encouraged to report the case.
"Women's organizations do not help victims solely through assistance and support, as they advocate different public policies. We talk lightly about policies, when we should not discuss clashes between the parties, but focus on the overall politics at all times. The situation today is such that they say it is important to report violence, and everyone becomes demotivated later. The worst thing that can happen to a woman is sexual violence," believes Srdić, while Andrijana Radoičić Nedeljković adds that zero tolerance to violence is necessary.
"All activities should be directed toward sending a message to the victims and protecting them. That should be a message, not just to adopt strategies, but to change the practice, narrative, and public speech. The responsibility for violence is exclusively on those who commit violence," concluded Radoičić Nedeljković.
The original text can be read via the following link: https://rs.n1info.com/vesti/gosti-n1-cudno-sto-je-slucaj-otvoren-na-zaht...