Nedeljnik: When a girl is promised, it is set in stone, there is no refusal: How is it possible that Serbia has not banned child marriages yet?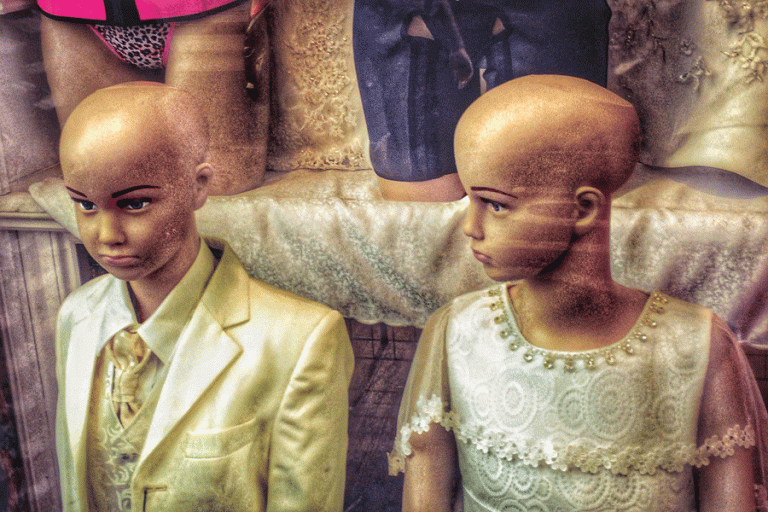 Photo: Profimedia
Without any discussion or explanation, the mother sent her underage daughter with a bag of clothes, stating that the young man was her husband. "When a girl is promised, it is set in stone, there is no refusal", she was told. The girl was too afraid to say anything, she just cried. In the house where she was married, or sold, she lived with this man and his family. On the same day when she came, she was forced to have her first sexual intercourse with her "husband", after which she was beaten and threatened, which occurred on a daily basis.
Later, the "husband" of the girl become her pimp, forcing her to enter prostitution and steal, while at home she was little more than a domestic servant. After many attempted escapes, the girl thought she had found a male savior, but this second abuser continued to act as her pimp. The second time she managed to escape a third "savior" forced her to do excruciating physical work while mentally and physically abusing her at the same time.
The girl managed to eventually escape and recover from her traumatic experiences with the assistance of NGO Atina, who, through the case study of this eleven-year-old Roma girl forced to marriage, discovered a connection between forced marriages and modern slavery.
In Serbia, 2,000 child marriages are concluded each year, and our country is, according to the latest amendments to the Family Law, only now about to abolish them.
 The new responsibilities of being a "spouse" usually make these girls drop out of school, engage in sexual intercourse with their "husbands" and give birth and care for children, says Jelena Hrnjak from Atina - Citizens association for combating human trafficking and all forms of gender-based violence. "For most of the girls, child marriage is a life sentence. From Atina's perspective, 'child marriage' is a term for sexual abuse of children, especially girls, which has been 'legalized' by marriage in certain social and cultural contexts. It is really unpardonable to have such a heinous occurrence in a society, in 2019."
"Of all the girls we worked with, none ever knew when or whom she was going to marry. These children, when going abroad, leave with the consent of their parents, and at the border someone sees that a Roma girl is leaving with older people who are not her parents. Before that, they are taken to a gynecologist to obtain a certificate that they are virgins, and they are forced to drop out of school immediately after their first period to preserve innocence. The point is that all the indicators are there, that every part of the system sees what is happening and everyone normalizes it and attributes it to their culture. When you talk to these children, they will say that they thought they were doing good for themselves and a favor to their family, as they did not have the means to live and study before, there was an existential pressure. We worked with girls who did not know how to distinguish colors, or days of the week, who were completely educationally neglected," Jelena Hrnjak told Nedeljnik.
Article 23 of the Family Law (paragraph 1) has made it very clear that (1) Marriage may not be concluded by a person who has not reached eighteen years of age, with paragraph 2 stating that (2)  A court may, for justified reasons, permit a minor who has reached sixteen years of age, and who has reached the physical and mental maturity necessary to perform the rights and duties of marriage, to conclude a marriage.
The amendments to the Family Law also abolish the possibility that a child over 16 years of age, with the opinion of the Social Welfare Center, may conclude marriage. Parents who arrange for such marriages are to be punished for the criminal act, as well as adults if they cohabitate with a minor.
 "Paragraph 1 of this article is very clear and says that child marriage is actually forbidden. The question arises as to how the provisions of this law have been violated and how the authorities mandated for these situations have (not) acted. Article 24 of the law refers to the free will for marriage - 'Marriage may not be concluded by a person whose will is not free'. The question is also whether, and in what way, have the children who allegedly entered into marriages by their own free will been evaluated," says Jelena Hrnjak.
She raises a question for lawmakers, "How will it protect children who are forced into marriages when we know that these marriages are not legally concluded, but are agreed and arranged by the girl leaving her primary family in who knows what and who knows to whom?"
On how it is possible that Serbia has not yet banned child marriages, she says it is proof that tradition and customs are above all rights and that many laws relating to families and children are designed to incorporate practices that are strong and represented in society without going into whether or not the practice is violence. In most cases, the courts did not pursue criminal proceedings for the criminal offense of human trafficking, and the parents were convicted of the act of child marriage and are currently serving a suspended sentence.
"We have had a case this year, where a girl reported on two occasions that her parents planned to sell her, and there was a lack of adequate reaction," Jelena Hrnjak said.
"It's not that we do not have enough normative solutions to sanction the conclusion of a child marriage, but here we revolve around the failure to act, i.e. having representatives of certain institutions turning their heads the other way when they see that a girl is forcibly married or even sold, which often goes with the conclusion of a child marriage, and then it is an additional crime, human trafficking," Hrnjak pointed out.
Early marriages and the sale of children are not exclusively related to the Roma, as it is thought, but also to girls from different rural areas of Serbia whose families are so poor, marginalized, and discriminated that they are selling them or forcing them to child marriages. These girls are recognized as victims of trafficking for being forced to marry significantly older men.
Child marriage is not limited to specific countries, cultures, or religions, but is happening all over the world. It is not just a hallmark of countries that are struggling with poverty. According to the latest available data, in the European Union, only four countries have a complete ban on the marriage of persons under the age of 18 (Netherlands, Germany, Sweden and Norway).
In Bulgaria, there is a bride fair where girls from Serbia are being taken, and what their sale on the spot looks like can also be seen on YouTube.
As many as 57% of Roma girls enter into marriage before the age of 18, according to a 2014 Multiple Indicator Survey on the Position of Women and Children (MICS). Regina De Dominicis, director of UNICEF in Serbia, says the survey then showed a significant increase in the number of child marriages - data collected in 2005 using the same methodology registered 46% of such cases.
"Globally, child marriage practice has declined by 15% in the last ten years, which means that about 25 million of child marriages have been prevented. So, positive change is possible. Change needs to happen in both the Roma and majority communities. Marriage before the age of 18 is a serious violation of human rights and affects the right of girls and women to health, education, equality and the right to a life without violence," explains the UNICEF Director. She notes that earlier this year, in partnership with the Gender Equality Coordination Body of the Government of the Republic of Serbia, a National Coalition for ending child marriages was established.
 There has been a strong social pressure and an expectation that the established norms and customs of marriage must be respected.
 "Nearly a quarter (23%) of mothers of the girls we spoke with thought it would be advantageous to have a daughter marry before the age of 18 because marriage ensures her integrity. The girls lack positive role models and examples, as well as support in all systems to continue their education and delay their marriage. For example, 35% of girls in Roma settlements do not know any girls who have graduated high school, and about 60% do not know girls who are employed. As many as 70% of girls think that all girls in the community marry before the age of 18. Social workers who encounter child marriages often say that they feel powerless, that they do not believe change is possible because it is a tradition they cannot interfere with. We also face a difficult to explain data mismatch. For example, in 2018, Centers for Social Work issued 174 approvals for underage marriages, while the Republic Office for Statistics reports a total of 1,419 underage marriages (1,215 girls and 204 boys) during the same period," Regina de Dominicis notes.
It is wrong to speak of this as a tradition, because it is a grave violation of the child's rights.
"If there is any tradition here, it is a tradition of violence and that is why it must be stopped. It is extremely dangerous to refer to this as a customary law, because it is then an alibi for the authorities' failure to act, but also for our misunderstanding and unresponsiveness; if it is their custom, who am I to interfere. Child marriage is violence against a child, which causes irreparable harm to the victim and long-term traumatic consequences, emphasizes Jelena Hrnjak.
* Such a thing does not, and should not, exist​
The original text can be found via the following link: https://www.nedeljnik.rs/kad-se-devojka-obeca-nema-necu-kako-je-moguce-da-srbija-dosad-nije-zabranila-maloletnicke-brakove/