Social enterprises, women entrepreneurship and female leadership are intrinsically linked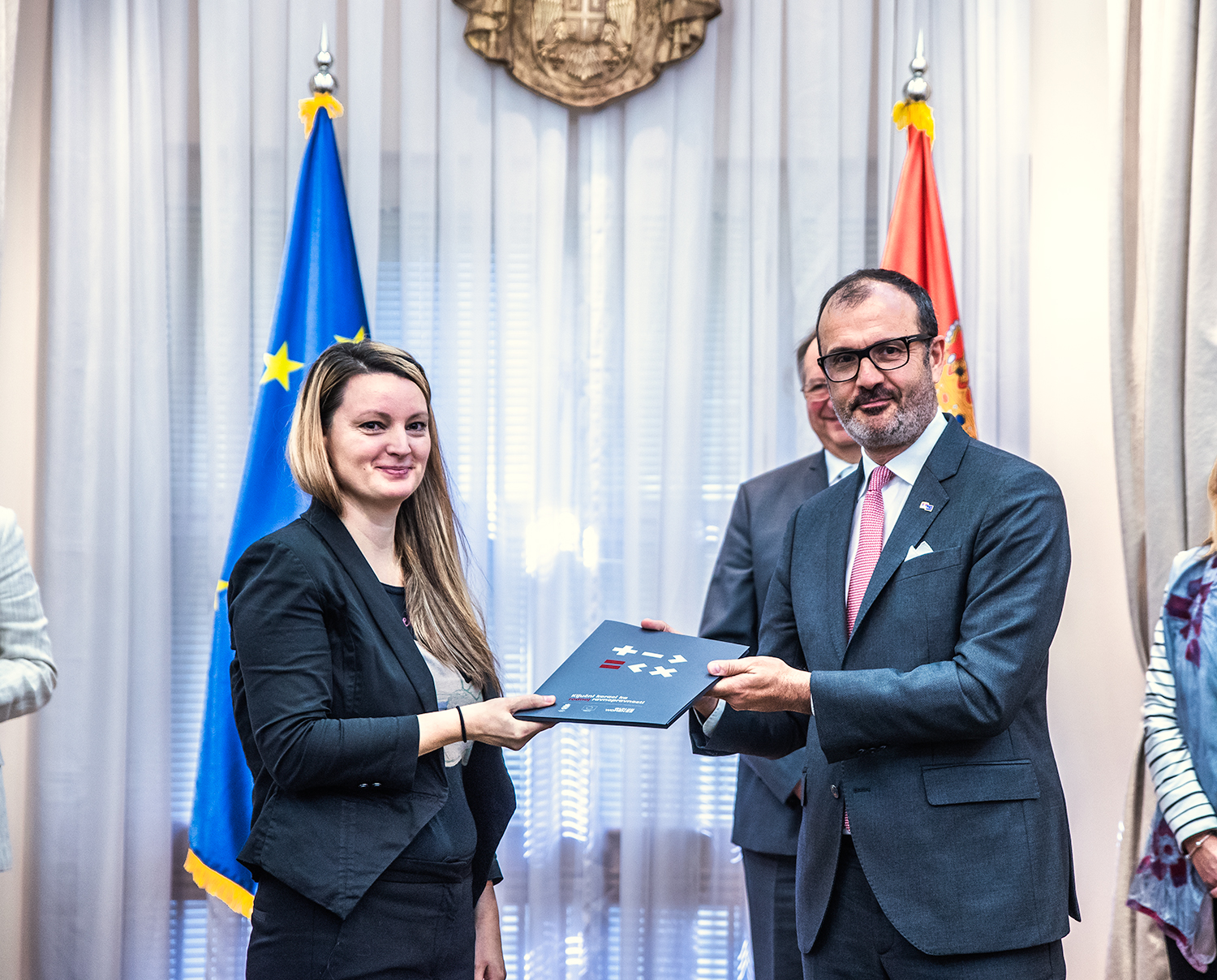 Photo: Marija Piroski
Social enterprises, women entrepreneurship and female leadership are intrinsically linked
In 2014, NGO Atina established a Bagel Бејгл Shop to promote women's economic independence and empowerment. Since then, Bagel Бејгл has received many distinguished guests and media coverage, and it even won the We Empower UN SGD Challenge. But why are social enterprises and women entrepreneurship so important for women's economic independence?
Women and poverty
One of the major obstacles for women's freedom is the lack of economic independence. Women who face financial hardship and are unable to find employment and are often forced to stay in unhealthy or abusive relationships, they might be pushed into the sex trade, or even lose custody of their children.
It should come as no surprise that poor women struggle more than poor men. According to UN Women, "They are likely to be the last to eat, the ones least likely to access healthcare, and routinely trapped in time-consuming, unpaid domestic tasks. They have more limited options to work or build businesses. Adequate education may lie out of reach. Some end up forced into sexual exploitation as part of a basic struggle to survive."
If we consider the gender pay gap, the lower wages of traditional female sectors (e.g. domestic workers), workplace sexual harassment and a hostile environment for working mothers and pregnant women, it's easy to see why the job market alone will not by itself afford women freedom or economic independence.
But what if women become their own bosses?
The potential of women entrepreneurship
It is always a good idea to invest in women, because they tend to put that money to good use and reinvest in their belowed ones and communities. Women entrepreneurs create jobs, improve living standards, foster economic growth, reduce poverty and contribute to equality between women and men. Women entrepreneurs generally own or manage small to medium enterprises (SMEs) which are fundamental for economic growth. According to a report by the World Bank focusing on Europe and Central Asia, due to the small scale of women's enterprises in the region, they generate less sales revenue. However, "women generate more profit per unit of sales revenue and show higher returns to scale (…) women's returns to scale are significantly larger than men's, implying that women would gain more if the scale were increased".
A recent study suggests women also have a different attitude towards doing business. They are risk-takers, but they are not as overconfident as men; they are ambitious and determined, but are aware of their limitations and what they require to advance (e.g. more knowledge). To put it bluntly, women entrepreneurs do not fall prey to the gender stereotypes imposed on them but they also do not copy a masculine model of entrepreneurship.
Female leadership in social enterprises
Social enterprises, women entrepreneurship and female leadership are intrinsically linked. Many social enterprises across the globe work for women's empowerment and, simultaneously, many social enterprises are actually founded and led by women. In Serbia, female workers are overrepresented in social enterprises that consist of development agencies, business incubators and spin off enterprises. Furthermore, women also make-up for more than half of volunteers of all social enterprises in the country.
Data suggest that female leadership in the third sector is much more prominent. This is one more reason why fostering women entrepreneurship is a key to achieve sustainable development: women entrepreneurs are more focused on social impact and women's economic empowerment through social entrepreneurship is a win-win for society at large.
What do women entrepreneurs need?
In 2012, only 29 % of active entrepreneurs in Europe were women. Why? Because women entrepreneurs and female-led NGOs and businesses need a gender-responsive entrepreneurial ecosystem. What does this mean? That policies, laws, regulations and access to finance cannot penalize women, but rather promote female entrepreneurship and take into consideration the unique obstacles that women face when starting a business.
According to a study by Marina Zlatkov Cvetković, female entrepreneurs in Serbia are often motivated to start their own businesses in order to achieve a healthy work-life balance and to increase their families' income, and well as to gain more independence. They all seem to encounter similar problems when starting their own business, therefore Cvetković sketches the most pressing needs of Serbian female entrepreneurs: adequate infrastructure in rural parts of the country (kindergarten, schools, banks, hospital, educational programs, etc.); more flexible and simplified laws and regulations to avoid double taxation of entrepreneurs; more financial and educational support to start female- owned and led businesses; combatting gender stereotypes that prevent women from becoming entrepreneurs in the first place.
Bagel Бејгл is leading the way
Bagel Бејгл bakery is a social enterprise founded by NGO Atina. The profits of this bakery go directly into financing the support services that NGO Atina provides to human trafficking victims in Serbia. It is a women-led social enterprise that employs other women, thus contributing to their economic independence. Furthermore, Bagel Бејгл only buys from small producers, making sure their business model is according to sustainable development standards.
Everything about Bagel Бејгл illustrates the potential of women entrepreneurship: how it can empower other women and provide them with economic independence; how it can have a positive financial impact on the community: and how the profits are reinvested in defending human rights through the combat against human trafficking.
As Marijana Savić, director of NGO Atina, stated at the opening of Bagel Бејгл years ago:
"Everything indicates that, in the future, community development will not be possible without mutual support and partnership of civil society organizations, private sector, government institutions, and citizens in general. Therefore, we invite you to contribute, and be a part of this story that fundamentally changes things, and allows an opportunity to those who can not do without us"
More information about Bagel Бејгл: www.bagel.rs
This text was produced in the framework of the project "Support to Priority Actions for Gender Equality in Serbia", implemented by the United Nations Entity for Gender Equality and the Empowerment of Women (UN Women) with funding from the European Union. The views contained in the text are those of the authors and do not necessarily represent the views of UN Women, the United Nations or any of its affiliated organizations. The project is part of the initiative for supporting women entrepreneurship, women in rural areas, decreasing labor market and employment discrimination, encouraging dialogue on the importance of economic empowerment of women and exchange of knowledge and information among women entrepreneurs.