Vukosava Crnjanski was awarded the National Order of Merit of France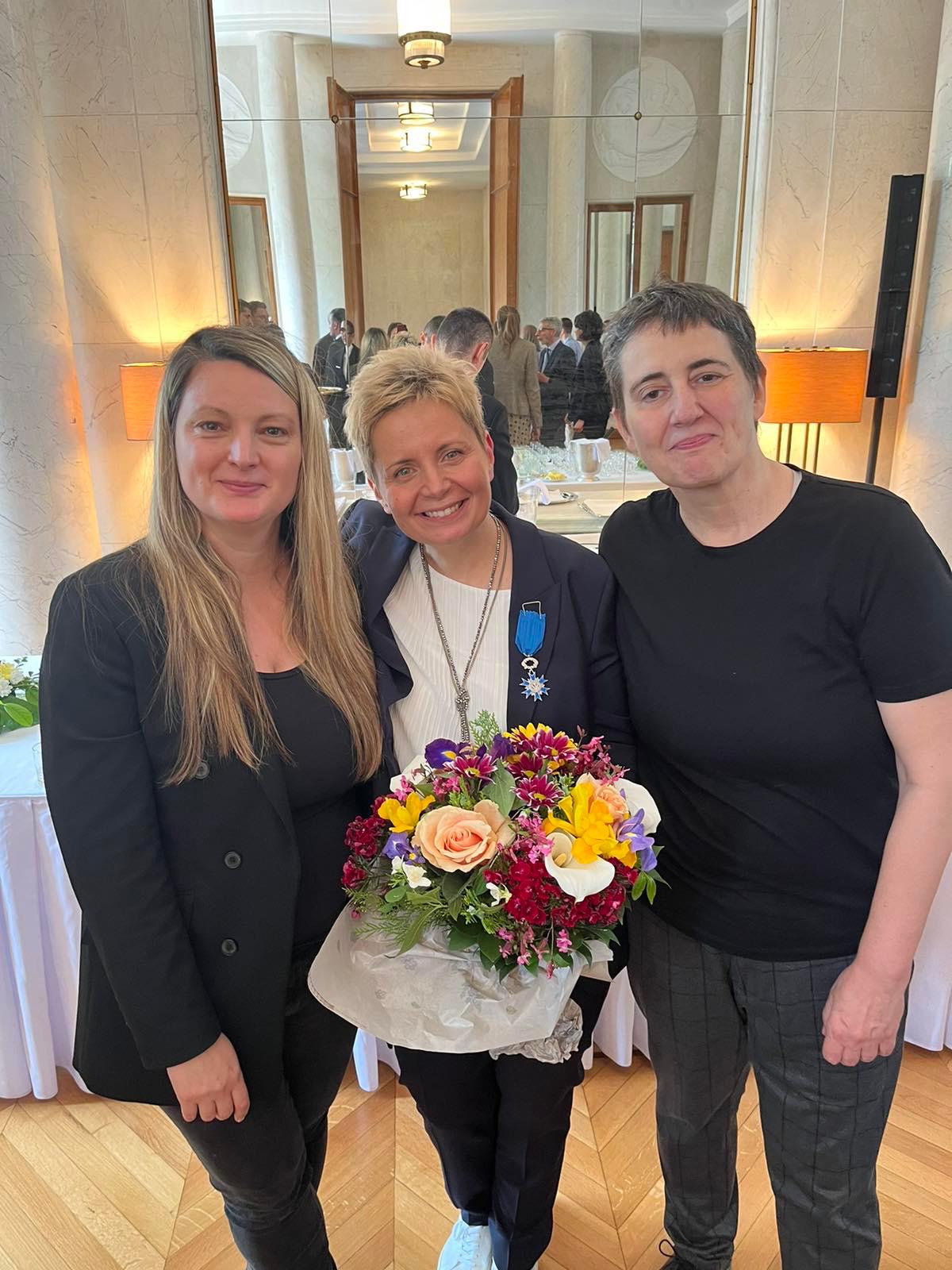 Photo: Jovana Đurbabić, CRTA
Vukosava Crnjanski was awarded the National Order of Merit of France
On behalf of the President of the Republic of France, the Ambassador of France to Serbia, Mr. Pierre Cochard presented the National Order of Merit in the rank of knight to Vukosava Crnjanski, director and founder of the organization CRTA - Center for Research, Transparency and Accountability.
The ceremony was attended by members of her family, friends, colleagues, as well as members of other civil society organizations, and representatives of diplomatic missions in Serbia. Organization Atina, which is a partner organization of CRTA, not only welcomed this event but also congratulated our dear colleague and comrade, highlighting her courage, perseverance and, ethics in caring for the development and preservation of democracy in Serbia.
In his speech, the Ambassador recalled the professional path and engagement of Vukosava Crnjanski, who advocates together with her team for the development of democracy and the establishment of the rule of law in Serbia.
Vukosava Crnjanski began her active participation in community life in the 1990s as an activist of the Civic Union of Serbia, dedicated to democracy and peace, opposing the regime of Slobodan Milošević. In 2002, she formed a civil society organization LiNET - Liberal Network - a precursor to the 2009 founding of the civil society organization CRTA - Center for Research, Transparency and Accountability. She has always advocated for independent journalism, and was a co-founder of the Slavko Ćuruvija Association.
For more than twenty years, Vuka Crnjanski has been committed to making all public information of general interest available to citizens, with the aim of promoting inclusive political engagement in Serbia. Under her leadership, CRTA established itself over time as a reference organization that offers proven and high-quality expertise in the field of election observation, thanks to which they offered numerous reliable and methodologically rigorous studies on the use of public and informational space. She also managed to form a network of local observers whose work was highly rated by the OSCE, deploying several thousand persons throughout Serbia during the big elections.
Thanks to CRTA, there are also quality platforms accessible to everyone, such as Istinomer, which lists the biographies of public figures based on thoroughly verified information, or the Open Parliament, which contains important information on current affairs in the field of legislation and discussions about them in society. She recently established a media observatory that - among many other things - monitors fake news circulating in the public sphere.
Perhaps owing in part to her education and diploma in engineering and organizational sciences from the University of Belgrade, Vukosava Crnjanski advocates an approach that is both methodical and quantitative, which makes CRTA an independent, non-partisan and objective organization. This did not protect her personally, nor members of her team, from criticism and intimidation - which was condemned by many diplomatic missions and countries, including France.
In her speech, Vukosava Crnjanski thanked France for recognizing her work and the work of her team, and thanked her family and colleagues for their support.
The Order of Merit, established in 1963 by General Charles de Gaulle, is one of the two highest French national decorations, along with the Legion of Honor.
You can read more about the event via the link: https://rs.ambafrance.org/Urucen-Nacionalni-orden-za-zasluge-Vukosavi-Cr...