Vulnerability to exploitation and human trafficking: The case of Serbia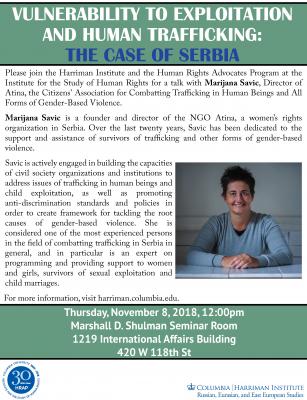 Thursday, November 8, 2018 12:00 PM - 1:00 PM
International Affairs Building, 420 W. 118 St., New York, NY 10027 Room 1219
Please join the Harriman Institute and the Human Rights Advocates Program at the Institute for the Study of Human Rights for a talk with Marijana Savic, Director of Atina, the Citizens' Association for Combatting Trafficking in Human Beings and All Forms of Gender-Based Violence.
Marijana Savic is a founder and director of the NGO Atina, a women's rights organization in Serbia. Over the last twenty years, Savic has been dedicated to the support and assistance of survivors of trafficking and other forms of gender-based violence.
Savic is actively engaged in building the capacities of civil society organizations and institutions to address issues of trafficking in human beings and child exploitation, as well as promoting anti-discrimination standards and policies in order to create framework for tackling the root causes of gender-based violence. She is considered one of the most experienced persons in the field of combatting trafficking in Serbia in general, and in particular is an expert on programming and providing support to women and girls, survivors of sexual exploitation and child marriages.
Together with her colleagues, she launched the social enterprise Bagel Bejgl shop to promote women's entrepreneurship. This project aims to provide trafficking survivors, who are in most cases young persons, with employment and entrepreneurial experience. For many participants, it was their first such experience and it later enabled them to find employment more easily.
Since the refugee crisis, Savic has been actively involved in supporting girls and women refugees, especially those suffering from different forms of violence.