This is why migrants are living on the streets in arctic cold in Serbia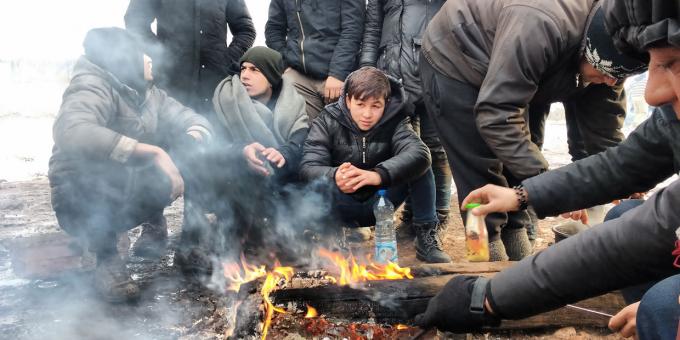 Lack of space in government facilities and fear of illegal deportations keep people out in freezing winter conditions
Up to 2000 refugees and other migrants are living on the streets in Serbia, risking their lives under appalling conditions in arctic temperatures. There are not sufficient places in government sites, and many people also fear illegal deportations by Serbian authorities. Oxfam is on the ground, working with local partners to distribute warm clothes and other essential items to migrants so they can stay warm and survive.
In Belgrade alone, at least 1500 migrants, including hundreds of children, are living in inhuman conditions in abandoned barracks close to the city's central station. More people, including families, are living in places close to the border in Hungary, hoping they will be able to travel further North soon.
Farzin*, a 25 years old man from Iran, tells us of appalling conditions in Belgrade. "The situation is very bad", he told humanitarian workers this week. "We don't have anything to boil water with. It's very cold, and we have no shoes. The snow is falling all the time."
Most people in the barracks are sleeping on the floor, with just a piece of cardboard to protect them from the cold, while temperatures have dropped as low as 20 degrees below zero. Most of them are without proper clothing, shoes or blankets. There is one water pipe for 1200 people. The space is dirty and polluted by smoke from the fires they are using to keep warm. Scabies and lice are rampant.
"I am sleeping in the barracks. There is a lot of smoke, no washrooms, no toilets. 60% of the people are sick – they are coughing, have fever. There are bugs and mice, it's a big problem", says Afsar, 41 years, from Afghanistan. Adel, a 30-years-old Afghan, has similar experiences. "We have no doctors, a lot of people are sick. Most don't have warm clothes, no jackets. There is no good place to sleep," he told our partner organization.
Months-long government ban on NGOs and volunteers to support people in need
For months, and even with the beginning of what is one of the harshest winters in Serbia for years, the Serbian government has been barring organizations from supporting people in need. Authorities argued that providing support would only attract more people to live outside the official reception system – completely ignoring the clear lack of emergency shelter. It was only reports from international media on the inhuman conditions people are living in that made authorities unofficially loosening their ban temporarily.
Oxfam has started an emergency program: through our local partner Miksalista, we are distributing essential items such as winter clothes, adequate shoes, sleeping mattresses and sleeping bags to all migrants in Belgrade living outside the official reception systems.
Providing urgent humanitarian relief is not keeping migrants outside the official system, it is the bare minimum necessary to keep people alive. The government must allow NGOs and volunteers to provide the humanitarian response that is urgently needed both now and in the future.
Fear of illegal deportations
People have good reasons to stay away from government-run reception centers, they tell us. Not only is there a lack of emergency shelter, migrants also fear to be deported from Serbia.Indeed, the United Nations' refugee agency UNHCR last month warned of illegal deportations in the region of at least 1000 people by authorities.
Migrants reported that Serbia authorities duped them into the official reception system, just to deport them once they arrived to government reception centers.
In one documented account, in December, Serbian authorities attempted to illegally push back a Syrian family at the border with Bulgaria. Members of the Serbian police and armed forces abandoned the group of seven, including a 2-years old child, in the woods in the middle of the night, with their documents confiscated. Luckily, the family was saved because they had the contact details of volunteers who had helped them in Belgrade.
People are extremely fearful and distrusting, so much so they are risking their lives by sleeping outside. They prefer to stay away from government facilities rather than risk entering the system and being deported.
Serbia's government needs to act immediately
Oxfam is calling on the Serbian government to ensure there is enough emergency shelter inside the official reception system, and adequate support for those outside the system is provided. The government must also fully investigate all reports of pushbacks and deportations across state borders. According to national and international law, people fleeing persecution have the right to seek asylum. If migrants are applying for asylum in Serbia, they must be hosted in a reception center for the entire duration of the asylum process.
* Names of migrants changed
This entry posted by Marco Savio, Oxfam's operations lead for Europe, on 20 January 2017.
Downloaded from https://blogs.oxfam.org/en/blogs/17-01-20-why-migrants-are-living-streets-arctic-cold-serbia