Women's Advocacy Group in a work meeting with Local Anti-Trafficking Team in Subotica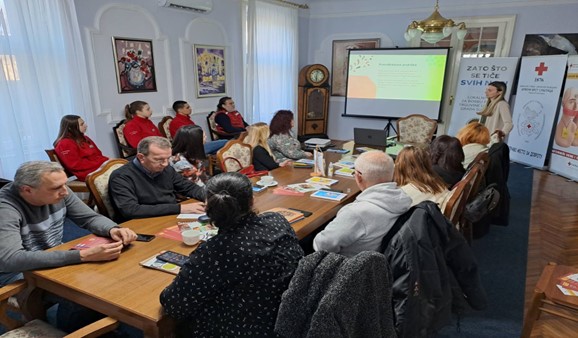 Photo: NGO Atina
Members of the Women's Advocacy Groups, gathered around NGO Atina, participated in a work meeting with members of the Local Anti-Trafficking Team in Subotica. This event was used as an opportunity to familiarize the Local Anti-Trafficking Team with the activities of the Advocacy Groups, but also to make plans for future joint actions.
During the meeting, Advocacy Groups members discussed the necessity of improving the support and protection system in Serbia, so as to better respond to the needs of the victims of human trafficking and gender-based violence. They particularly emphasized the specificities of the communication between the professionals and women with the experience of violence and human trafficking. One of the conclusions of the meeting was that it was necessary to organize training for professionals on this topic, and to involve Advocacy Group members in the creation of the curriculum. 
Following this, Advocacy Groups members had a separate meeting with the coordinator of the Local Anti-Trafficking Team, a member of the local self-government, with the aim to involve Advocacy Groups members in the creation of local public actions that the Local AT Team planned for second part of the 2023.   
Establishment of the Advocacy Groups for girls and women survivors in Serbia came as a natural continuation of the involvement of Atina's beneficiaries in decision-making processes that concern their lives within the organization. The idea arose from the need to provide a space for those with the experience of violence within the protection system to participate in the broader social and political sphere of policymaking and practice, focusing on advocacy for the rights of human trafficking and gender-based violence survivors and persons from at-risk groups. In this way, girls and women started publicly advocating for their equal position in society and changes in the protection policies, addressing the community at conferences, training, and gatherings, and maintaining regular meetings with decision-makers. The Advocacy Groups members also took an advisory role in reviewing each Atina's report and contributed to further advocacy initiatives. 
The meeting was held within the project "Strengthening Girls and Women's Power to Resist Sexual and Gender-Based Violence in Serbia'', NGO Atina is implementing in partnership with Oxfam Intercultura. The project aims to build upon NGO Atina's and Oxfam's existing initiatives to support SGBV survivors directly, to enrich the role and develop skills and capacity of Advocacy Groups to design and implement advocacy actions aimed at improving the conditions faced by unprivileged women and girls in Serbia.