Young volunteers connecting the Balkans and Germany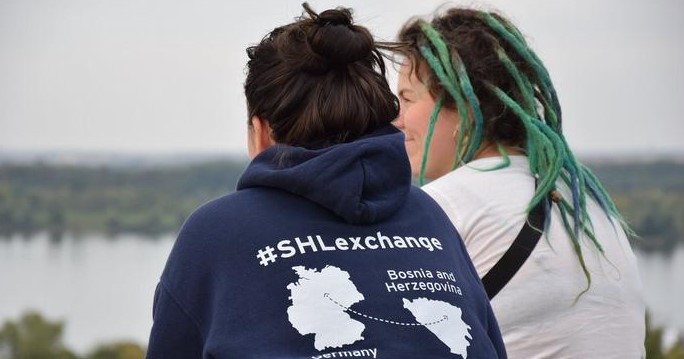 Nina and Lisa volunteer in the "Schüler Helfen Leben" organization. They are collecting donations for young people in Southeastern Europe. Today, they are also producing a podcast in German language. Lisa, a girl from Germany, says that "young people in Serbia have no prospects".
"Schüler Helfen Leben gave me the opportunity to become politically active," said 19-year-old Nina Atanasovska from North Macedonia, who is currently volunteering at the German youth organization Schüler Helfen Leben (SHL) in Neumünster. Through practical work, this young Macedonian girl has, since July 2019, not only learned to speak German fluently, but also to hold lectures and workshops in schools.
"I learned a lot here, but the best experience for me was during the Open Day at the Office of the German Chancellor. We had the opportunity to meet Mrs. Angela Merkel there," Nina told DW.
Together with other young people from the EU, she worked on the projects aimed at anti-discrimination, encouraging youth to engage in their communities, and supporting refugees.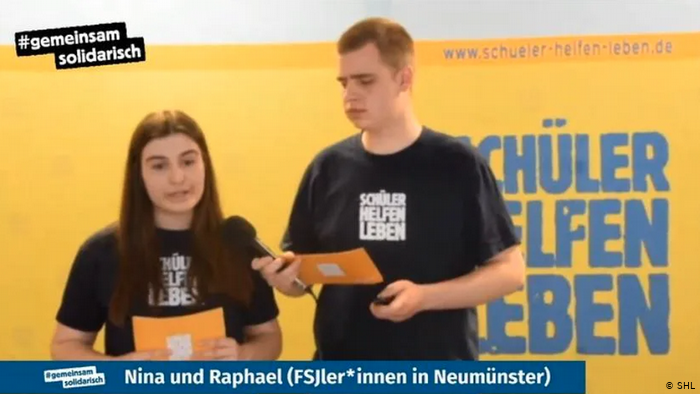 Nina is leading a project to collect donations for the Southeastern Europe
One of her peers is Lisa Elischer, from the German town of St. Peter-Ording on the North Sea coast. "Yes, of course I know Nina! We are working together on a podcast in German about youth engagement. It's called 'Mach doch'," says 20-year-old Lisa enthusiastically about her collaboration with Nina Atanasovska.
Young people in the Balkans do not have enough opportunities
Lisa has been volunteering for SHL for several years now. During her engagement, she also visited Bosnia and Herzegovina, and until recently she was in Serbia, where she spent eight months working in SHL's partner organization "Atina". She was helping migrants and young people who survived human trafficking or some other form of violence or exploitation. In March, she had to return to Germany due to the coronavirus pandemic.
Today, she has many friends in the region and wants to return as soon as possible, so that she can directly help everyone who needs assistance. "Southeastern Europe has grown close to my heart," she says.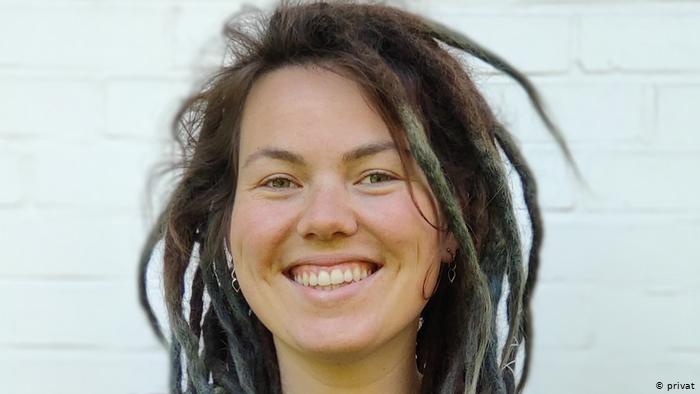 Lisa: Young people in Serbia do not have enough opportunities
Both young girls share the same opinion when it comes to differences between Southeastern Europe and Germany: the lack of perspectives for youth. In order to solve this problem, SHL's General Director Ansgar Seng believes that youth organizations in all Western Balkan countries should be the voice of youth in politics and society, and advocate for their rights.
"In order to support the growing European community, in the next few years we intend to intensify the international exchange of young people from Southeastern Europe with Germany and other EU countries," he said in an interview with DW.
"Serbs do a lot with what they have"
SHL volunteers are also most interested in exchange, but also wish to feel useful as they do not have opportunities for that in their homelands. "Our systems and societies in the Balkans are not  well developed, and young people do not have the opportunity to be active, but I got that opportunity through SHL projects. And not only in North Macedonia, but also in Bosnia and Herzegovina, and now here in Germany as well," explains Nina, who took over the responsibility for regional coordination in Neumünster.
Lisa confirms this by drawing parallels between life in Germany and the Balkans: "I come from an environment where no one has to think twice about what will happen once they finish school. On the other hand, what I noticed in Serbia is that people are full of cynicism and do not have such good prospects for the future, but despite that, they do a lot with what they have."
SHL: Over a million euros for young people every year
The engagement of young people in Germany can be very well illustrated by these facts: more than 60,000 students across Germany work in a company one day a year, and their per diems are donated to young people in need from Southeastern Europe, Jordan, and Germany.
This is what the "Social Day" organized by "Schüler Helfen Leben" looks like. In the end, over a million euros are collected. Since the first "Social Day" organized in 1998, SHL has raised more than 30 million euros.
From the money they raise, the organization supports hundreds of projects around the world. Part of the money is also used for projects of partner organizations "Atina" in Belgrade or "Arsis" in Tirana, but also for the SHL regional office in Bosnia and Herzegovina. Most projects focus on young people, migrants, but also young people from marginalized social groups, such as the Roma.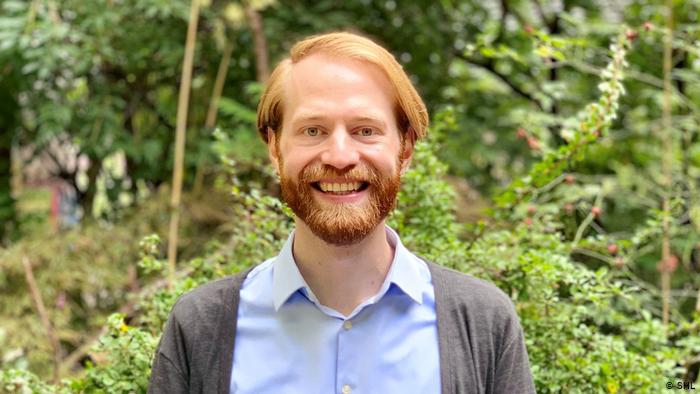 Ansgar Seng
The goal of such projects, as stated by Jelena Hrnjak from the organization "Atina", which, among other vulnerable groups works with migrants and youth who have suffered violence, is that these young people are provided support to independently find a solution for their growth and development: "To return into the education system or qualify, become professionally oriented and return to normal society flows after recovery, which can be very long and arduous for them."
That is why the cooperation of SHL and partner organizations is very important to find sustainable solutions to these issues, explains Ansgar Seng for DW.
#GemeinsamSolidarisch
Due to the coronavirus pandemic, SHL's "Social Day", which was always held in June, has been postponed to October 1. But, regardless of that, not all activities of this organization have been postponed: "Coronavirus changed the work in the field and we started distributing humanitarian packages for which we collected donations separately," Seng explains. Packages with hygiene products and food were mostly donated to Roma teenagers and children, as well as to refugees who remained stranded in the so-called Balkan route or in Jordan, where many humanitarian organizations are currently unable to function normally due to the pandemic.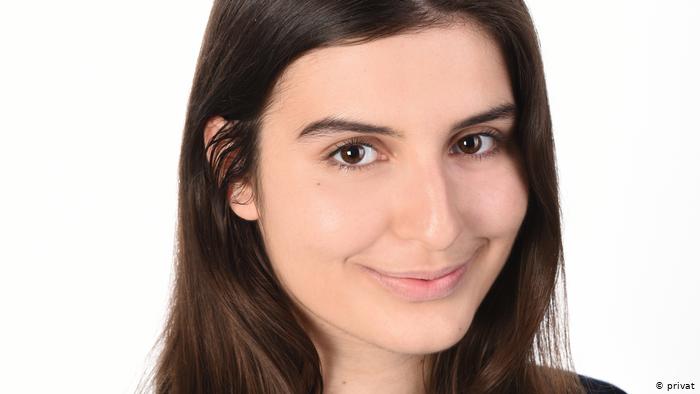 Nina Atanaskova
In addition, young people also use new global trends to collect donations. They organized an online concert where a band Helem Nejse from Bosnia and Herzegovina also performed. Nina Atanasovska was the host of the concert last month on YouTube and other platforms. The concert was held under the hashtag #GemeinsamSolidarisch (#TogetherInSolidarity).
Jelena Hrnjak sees positive development among youth: "Young people are not passive. They take responsibility for their lives, even if they currently live in unworthy conditions. They see themselves as the initiators of that change."
For NGO Atina, text translated by Marija Pantelić.
The original text can be read via the following link: https://www.dw.com/sr/mlade-volonterke-spajaju-balkan-i-nema%C4%8Dku/a-54006878