Blic News "At the gender-based violence event State Secretary insulted women, then hit his colleague's gluteus with papers!?"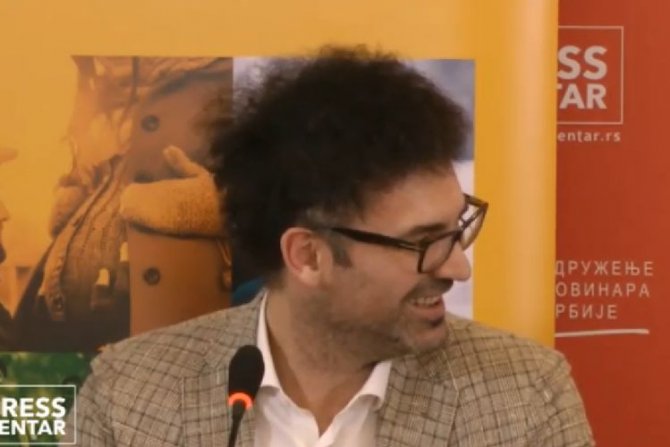 At the gender-based violence event, State Secretary insulted women, then hit his colleague's gluteus with papers!? This is his justification
Blic News, D. Lukovic December 25, 2018 11:50
 
At the presentation of analysis on gender stereotypes and gender-based violence, Darko Stanic, State Secretary with the Ministry of Youth and Sports and a celebrated former handball player, insulted women saying they are poor drivers, and then hit his colleague Ana Kapetanovic's gluteus with papers.
Stanic claims that he only "brushed against her disks", while Kapetanovic says there was no contact at all. But, let us take a step back. Jelena Hrnjak, programme manager of NGO "Atina", who was also presenting the analysis on correlation between gender stereotypes and gender-based violence among the population of girls, brought the attention to this event.
- During the presentation, while speaking about prevailing prejudices against women in our society, such as "women are poor drivers", Stanic made an unseemly remark, "Why, yes, is there a woman who can drive well? I know none, maybe one; there one", he replied with inappropriate gestures. After his speech, on his way to exit the conference and in front of all the participants, the State Secretary hit his colleague's gluteus with documents he was holding, stating. "Who says women are not good drivers, right?", Hrnjak reported.
They addressed the Minister of Youth and Sports, Vanja Udovicic, with a complaint that such behaviour is humiliating. As a reaction to those accusations, famous "Minister of Defense" (he earned this nickname as a handball goalkeeper of the Serbian national team) claims that he only brushed documents against his colleague's back.
-I only brushed the documents against her disk in a manner 'let's go'". They are defending her from me, without knowing her, without any idea who she is. I spoke with the Minister about this who situation, we were struggling with the best way to make a public announcement without turning the situation into a telenovela. Listen, I have my name before me. If neccessary, I will apologize if necessary they only need to tell me the reason why. It is not a problem at all to have Stanic removed from this function - he says.
Inappropriate comments about women and driving were, he continues, a reaction to the results of presented research which sheds a bad light on Serbia.
- It turns out that 90 percent of things are bad in Serbia, and to make matters worse they interviewed girls attending 3rd and 4th grade of high school. It is all quite sensitive, and without a reference to how precisely it was done and how many girls were interviewed; there is no visible relevance of the research. I was very disappointed, and felt unpleasant as I was a state representative there, so when they began listing those things, I just laughed and made the remark about driving - says Stanic.
He enabled us to contact Ana Kapetanovic. 
- There was no contact whatsoever. I am 25 years old, an intern in the Ministry. I don't know whether someone brushed against me with papers, but it would be impossible not to feel someone hit me, I do not wear 300 layers of clothes not to feel such a thing - claimed Kapetanovic. 
Commissioner for the Protection of Equality, Brankica Jankovic, reacted to this case as well.
- It all broadens the prejudice and stereotypes against women and does not contribute to gender equality. The good thing is that an apology came from Minister Udovicic, that was the least that should be done - underlined Jankovic.
The research that was criticized by Stanic was conducted in cooperation with the Government of the Republic of Serbia, with the support of the Government of Sweden and United Nations Population Fund. 
Vanja Udovicic: Conversation, then a decision on sanction
Minister of Youth and Sports, Vanja Udovicic, says that a decision on further actions will be made once all the actors of the story are heard.
- Any form of verbal or phisical violence, humiliation or any other offensive action toward women is intolerable in my opinion - and I have zero tolerance for such a behaviour! I will speak with all the actors of the event today, and after all the facts are taken into account I will make a decision on the sanction -highlighted Udovicic.
The original text can be found via the following link: https://www.blic.rs/vesti/politika/drzavni-sekretar-na-dogadaju-o-rodnom...