Representative of Atina at a panel with Nadia Murad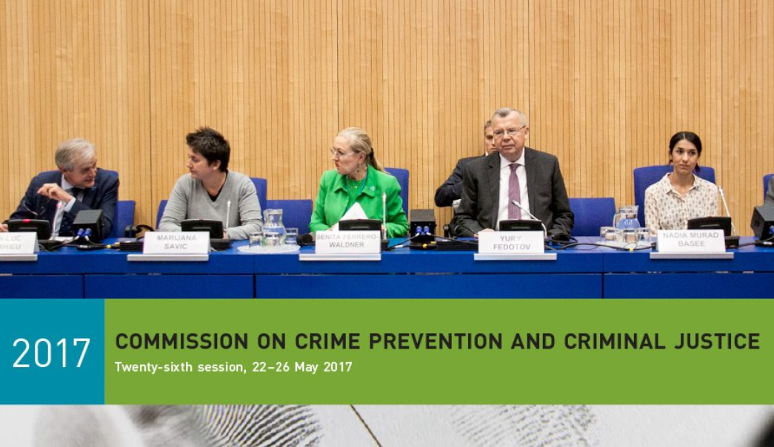 At the panel "Assisting and protecting Human Trafficking Survivors in the context of armed conflict, refugees and mixed migration flows: lessons learned on the ground" where the representative of Atina, Marijana Savic, took part, speakers were also Nadia Murad, UNODC Goodwill Ambassador for Dignity of Survivors of Human Trafficking. Speakers were as well Yury Fedotov, UNODC Chief, and Benita Ferrero-Waldner, Representative of the Board of Trustees, UN Voluntary Trust Fund for Victims of Trafficking in Persons, Especially Women and Children. They spoke about the protection of human trafficking victims within the twenty-sixth session of the Commission on Crime Prevention and Criminal Justice, United Nations Office on Drugs and Crime (UNODC) which was held from May 22 to 26, 2017.
The exchange with Nadia Murad during this session represented a particular privilege and honor, taking into account her efforts in this field, and especially through her current role of Goodwill Ambassador. Nadia pointed out that she speaks about her experience in the hope of uniting the world in the fight against human trafficking, and that she identifies with all the women who are in captivity, and facing the same horrors she experienced in Iraq at the hands of ISIL. She also added that she hopes her experiences will help other people who survived human trafficking to find the strength and dignity that is always inside them, but it is sometimes hard to remember that.
Numerous participants also discussed, among other things, issues related to the ratification and implementation of the United Nations Convention against Transnational Organized Crime, as well as international instruments for the prevention and combating human trafficking and smuggling of migrants, and other issues of importance for crime prevention and criminal justice.
In her speech, Atina's representative, Marijana Savic, also reflected on the reasons why a decision was made for Atina, as a women's and feminist organization, to become involved in the response to the refugee crisis and start building capacities in that direction. "We watched women who are on this journey, and saw that due to the life in patriarchal societies, due to the fact that various things are not available to them, they are hiding even more, and retreating mostly behind the men who are, on this road, taking on the role of the patriarchal system - they lead and they are making decisions." Another reason, she stated, is the fact that women and children who suffered some form of violence were being referred to Atina's programs, which was a clear sign that such support is more than needed.
Director of NGO Atina has, during her speech, also addressed the approach of actors from state institutions, international and local humanitarian organizations, who fail to sufficiently take into account the experiences of women and girls and their specific needs. She also stated that the situation can be improved only if the actors provide women with necessary information, take their concerns and fears into account, and start perceiving them as individuals, not only as wives and mothers.
Finally, she emphasized the most important issue, and that is the inclusion of feminist approach in humanitarian response to the current refugee crisis. Feminist approach is crucial, as it advocates for change and transformation of social and power relations, which is the key to the problem, instead of the humanitarian approach that is based on harm reduction, not vital changes.At the panel "Assisting and protecting Human Trafficking Survivors in the context of armed conflict, refugees and mixed migration flows: lessons learned on the ground" where the representative of Atina, Marijana Savic, took part, speakers were also Nadia Murad, UNODC Goodwill Ambassador for Dignity of Survivors of Human Trafficking. Speakers were as well Yury Fedotov, UNODC Chief, and Benita Ferrero-Waldner, Representative of the Board of Trustees, UN Voluntary Trust Fund for Victims of Trafficking in Persons, Especially Women and Children. They spoke about the protection of human trafficking victims within the twenty-sixth session of the Commission on Crime Prevention and Criminal Justice, United Nations Office on Drugs and Crime (UNODC) which was held from May 22 to 26, 2017. "When women have support and information, they can decide about their future freely! When feminist principles are incorporated in humanitarian work, effects on women are really beneficial", she Marijana Savic and added, "When women become agents of change, change does happen. And that also changes governments, national and international policies in the long run." 
More info you can find at: http://www.unodc.org/unodc/human-trafficking-fund.html