Camilla thanked by Novak Djokovic for foundation visit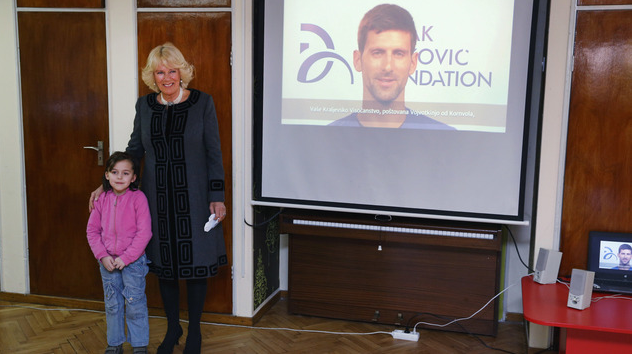 Tennis star Novak Djokovic has thanked the Duchess of Cornwall for taking the time to visit one of the projects supported by his foundation.
The world number one player took time out of his busy schedule to record a video message for the Duchess which was played when she visited the Zvecanska Centre in Belgrade, Serbia.
Camilla was at the centre as part of a six-day tour of the Balkans with the Prince of Wales, and she met representatives of Unicef and the Djokovic Foundation who have been providing family outreach workers.
It is part of a network of six children's homes in Belgrade and is home for around 180 children.
In his video message, Djokovic said: "We all want this project to succeed because we know how much benefit it brings to our society.
"Your presence here today is of tremendous importance and significance, since it brings this issue to the fore and attracts much-valued public attention.
"Thank you ever so much for that and for joining us today."
Later, Camilla visited Atina, a charity that provides support for women who have been raped and suffered domestic violence.
In the wake of the Syria crisis, it has also been supporting refugees and migrants.
The Duchess spoke to Marijana Savic, the director and founder of Atina, and heard of the mobile unit that has assisted Syrian refugees over the past six months.
Camilla told Ms Savic: "Thank goodness for you, and thank goodness you are here.
"I think you are incredible - they should clone you."
The Duchess also met young women who had learned to make jewellery to raise funds for the charity, and to aid their recovery.
The women, who seemed shy and withdrawn at the start, visibly warmed to Camilla and asked her to write a note for them.
She obliged and on a yellow piece of paper wrote: "With great admiration and my very best wishes to you all for the future. Camilla 16th March 2016."
A short distance away, the charity set up a bagel shop, and during her visit the Duchess bought 12 bagels - helping to fund the cause.
She also met a handful of local schoolgirls who were regular customers. They appeared thrilled to meet her and she emerged from the shop to rapturous applause from children who lined the street.
The original text can be found here:
http://www.dailymail.co.uk/wires/pa/article-3496081/Camilla-thanked-Novak-Djokovic-foundation-visit.html